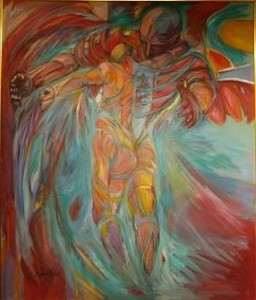 To Pray on and Ponder: Wisdom 9, 13-18b; Luke 14, 25-33
Id quod volo (That which I desire most): That we may find and embrace even but a fraction of God's Wisdom so we may be able to offer pure and focused hearts to the service of our Lord and our neighbor, seeing as God sees, loving as God's love, and living with the consequences of such love.
Reviewing yesterday's readings which we read and proclaimed in the CIS RDL launch, we mull even more deeply on God's wisdom in the light of the recent Davao bombing.
Finding refuge in and embracing God's Wisdom. This proposition will always be easier said than done. While all will certainly want the fruits of a life led according to God's Wisdom because of the fruits it promises–peace, justice, righteousness and gentleness through life–the path to be followed to get there is not as easy a choice to make. Because "the just one" according to the sinister characters described in the Book of Wisdom, is obnoxious to them, blocks their wrongdoing and punishes them for their violations. The wicked ones who suffer from the righteousness of the just–they simply resolve to fight back by torturing the just and framing them to die a shameful death. "God will protect and defend them anyways." They say with impunity as if to justify their evil plots.
This scenario is lifted from Sacred Scriptures. It is not a testimonial account of some responsible political detainee arrested for his work for the poor or human rights advocacy. Neither is it the murmurings of those left behind by innocent people mistaken to be targetted drug addicts or pushers who are summarily killed because they are suspected villains of the state-propelled drug war plot line. But the wisdom text certainly could have been a real-life martial law scenario.
"Embracing wisdom from above" has been a constant theme of Christian call since the days of Cain and Abel. Whenever worldly desire makes us covet and dominate others and kill, even, men and women who allow themselves to be ruled by a wisdom from below, a kind of thinking and valueing that is ruled by "jealousy and selfish ambition" arise and becomes the rule of the day and so very subtly begin to bring about "disorder and every foul practice" which then leads to wars and conflicts. James writes that these conflicts stem from irrational passions that wreaks havoc in our hearts and makes us lose our reason when we deal with others to obtain what we crave for. Our reading of reality becomes myopic and distorted: we only limit ourselves itto seeing that which we want to see, the very things that we crave for. All others, especially those which block our possessing what we want, all these have to go. We will eliminate them.
Jesus' message in the Gospel represents the most radical expression of "wisdom from above" yet given. Even as he was teaching how the Son of Man will become the persecuted just man described in the Book of Wisdom, his disciples were not listening. They were busy arguing as to who among them was the greatest. The irony in this story simply makes our hearts coil. Here was Jesus, nearing the end of his career, and his very followers were still filled in their hearts with the wisdom of this world. Will he die in vain? At the rate the disciples are going, they would be the first ones to desert Jesus when events prove Jesus' predictions right. (And yes, all of them except John flee for their lives once Jesus is arrested!)
Yet, Jesus continued to hope in these people he called and chose. He saw in their moment of argument a teachable moment. Though the world would consider greatest the strongest and most powerful among you, in the Way of the Kingdom, in God's world, it is the least and the servant of the least who is considered the greatest.
In yesterday's Sunday Gospel, Jesus further reminds his disciples, "Anyone who does not renounce all his possessions cannot be my disciple." Freedom of heart from every form of egoism and avarice is needed to that the disciple can really offer to the Lord and his service, a pure and focused heart and a magnanimous, zealous spirit.
Jesus might even have added what James proclaimed in his letter: and no matter what we see on the surface, " the wisdom from above is pure and peaceable, gentle, compliant, full of mercy and good fruit. And the fruit of righteousness is sown in peace for those who cultivate in peace." We may by our righteousness earn the ire of the wicked in our midst. We may be subject to revilement and persecution. But the purity in our heart and the humility that our service proclaims will invite others to also offer their love and support to the people most needy and vulnerable.
We who desire to choose to embrace the Wisdom from Above will soon see that we choose a road not usually taken. By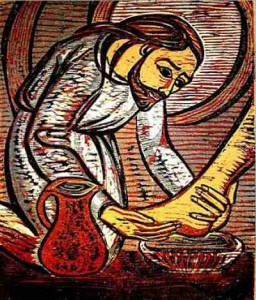 jesus-and-young-manour lives, we will "crucify the world" but "the world itself will crucify us too." And in such process of love absorbing the violence of evil, in such process is the world saved. For the passive ones simply endure and allow evil to wreak havoc and sow violence. But the vengeful ones fight violence with counter violence and in the process increases and intensifies violence and suffering in the world. Those who meet the world with Wisdom from Above lead their lives saying their firm "no" to violence and "yes" to life. But often times, people who say yes to life, offer their own life to say it, as Jesus himself did.
Some questions for reflection thus: What sense of void or vaccum in our hearts feed into our fears? How much do we tend to use possessions and abusive relationships to fill in the void inside us? When we are threatened to lose control over the usual inordinate attachments we hold on to, how easily do we have recourse to violence and domination to defend and protect our turf? How secure are we in our hearts that God will always provide for us and sustain us that we are able to share what we are and what we have to those in greater need? How much do we embrace God's Wisdom in the way we live? For such profound graces, we ask for God's wisdom and love. We ask that if our turn to face the question (of embracing God's Wisdom) comes, we may be ready to answer as well with our own lives, even when our answer may be seen as foolishness by the world. God Bless!
September 5, 2016 Leave a comment
« older posts
newer posts »