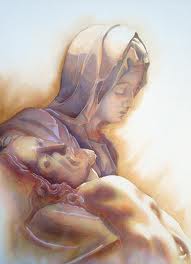 To Pray on and Ponder: Quiet remembering with Mary after the Funeral
Id quod volo: To be drawn by Mary's quiet remembering and learn from her gracious strength that meets crises with pondering, trust, discernment of where God moves in the dark, and how God continues to speak in the silent grief, and as in the past, the docile expectancy for the dawn aborning from the horrors of the night.
Holy Saturday is for quiet remembering. The events of the passion and crucifixion of our Lord all happened so fast. People's dreams were torn away like the veil that covered the Holy of Holies in the Jewish temple. Mary lost her son in the span of a few hours. After Jesus breathed his last, the world stood still and the Word in whose power and presence everything is created poured all that was left of his love and life. Mel Gibson's film Passion of the Christ even catches a rain drop like a tear drop of grief fallen from the Father in heaven. Soon after it was Mary bearing her son's lifeless body close to her heart, desiring but unable to breathe back life to him. The cleaning of the corpse was done in haste. The passover of Jesus may have begun but the old covenant in the Jewish passover was still in progress. People had to pause and wait. Quiet remembering is in order except perhaps for the Romans whose gods demanded other forms of devotions.
Mary walks and remembers. After the experiences at calvary, her memory was the only one that contained the fullest reserve of the story of Jesus. From way up to the time Jesus was just some mysterious message announced by an angel that asked of her to offer all for something she didn't quite understand. And she did offer all at that tender age. She gave her yes and tried her best to live out that yes everyday teaching her child-God how it is to be human and to believe and to trust and to love. The pain of Calvary was too much; much more than when she and Joseph almost didn't find a place in which to help Jesus see light on that first Christmas day. Much, much more than how she felt when just days after hard birthing labor, they had to flee Bethlehem to protect the child from those who deal death on account of fear and lust for power. Much more than when Jesus got lost at the temple many years back or when she lost Joseph her loving partner and support in the care of this precious Son. Mary had to reinvent her mother's role time and time again, for her Son was growing, reaching adulthood, coming to fuller awareness of who he was and what his life meant for people.
When Christ breathed his last, Mary's heart must have cried out lamentations before her God. How could you have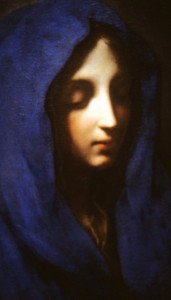 done this? How could you have given me a precious gift only to take him back? Why can't you do the same as you did with the widow of Naim, you brought her son back to life, right? Why can't you do the same for me? But her lamentations only served to make her remember, "you did promise that you would do according to God's Word, right?" And so tragedy and grief gave way to reflective remembering and waiting. There was some mysterious call somewhere–another remaking of her motherhood, perhaps? She had the fullest memory of Christ has she not? Perhaps it is around her that Jesus' friends and followers have to regroup, to gather again, to recoup their communion and to remember who they followed and the way they once dreamt to live their lives. Jesus' self-giving on the cross cannot end in senseless violence. There must be something greater that will come out of such a noble, heroic love.
Mary will say yes again, ponder over these things in her heart and allow God's Spirit to overshadow her again so a new birthing can happen once more. As Mary remembers on this holy saturday, let her lead us through our own remembering: where in our life have we felt God's touches whether intensely or subtly, distinctly or as it were in a shadow? Where has loving brought us much pain and joy? What sort of dying and rising has our choices to love brought us? What sort of new life do we sense a-borning as we do our remembering? God Bless!
March 26, 2016 Leave a comment
« older posts
newer posts »