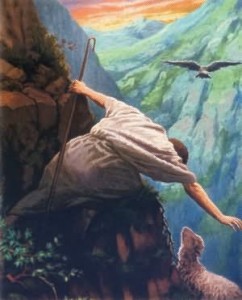 Pray on and Ponder:  John 10, 11-18
Id quod volo: That embracing our identity as children of the Father, we may also be empowered to love
others as the Shepherd loves his flock–with intimacy and with the genuine self-gift as to be willing to lay down his life for his sheep.
Magandang umaga po. Today is Fourth Sunday of Easter, which we also refer to as Good
Shepherd Sunday. At this mass I would like to invite you to reflect on the theme of embracing the Shepherd's love as adopted children of God.
Let me begin with a story. There was a time when I was just beginning in the priesthood and was making a retreat to prepare for first vows. My novice master and retreat guide told me, "Vic, why is it that your two
years here in the novitiate, the theme of self-sacrifice was always dominant but you seem always burdened and gloomy. I don't sense genuine joy in embracing Jesuit life. If this continues, I'm afraid you will not last long. In this retreat, please ask for the grace of genuine joy. And know that joy is pure gift, undeserved. You cannot earn it or work for it."
And so I launched into the retreat with that intention. I begged the Lord to give me genuine joy. I told the Lord with great intensity and supplication, I want to be a joyful and happy shepherd, like my Lord, Jesus Christ. I can even see the image of the laughing Christ in my head, the image of a Jesus playing with small children.
And then what surfaced in my prayer was the character of the elder son, berating his father: "For years I have slaved for you, and you have not even given me a small goat to feast on with the my friends
, but this irresponsible son of yours who have squandered half of your money, you even kill the fatted calf?"
The elder son immediately mirrored to me and gave voice to many hidden sentiments in my heart. A voice of self-righteousness for living the faith seriously and in committed way since childhood, living like the dutiful child of God; a voice of entitlement, one who seems to ask for pay back
for the sacrifices offered in the past; a voice of condemnation for the other children who do not do their part well.
And then my mind wandered to the younger son, and I heard him say: "Father, I have sinned against God and against you. I am no longer fit to be called your son, but please take me in as one of your hired servants." Of course the response of the Father was epic. He rounded his servants to restore back the dignity of his fallen younger son. "Put a robe on him, give him sandals, give him back the son's ring for him to wear again. My son is back and he is alive."
And then the Father's words
to the elder came back to me. "My son, all I have is yours, you are here with me. But your brother is back, he is alive again. We have to celebrate."
After dwelling on these dialogues from the story of the prodigal son. I realized what was blocking genuine joy to flood in my heart—I could not give myself freely and from the heart. I was doing sacrifice and loving on my own terms, and the sense of entitlement kept me attentive to pay back for the acts of sacrifice I do, for the acts of kindness and generosity. It was pretty much like the hired man in our gospel today. I was doing the chores of loving expecting some return for what I invest and do. And even if my lips do not say, my actions betray the kind of entitlement my heart bears.
And so the words of the prodigal father to his elder son moved my heart with the Father reminding me, "Vic, all I have is yours, mabuti kang anak, at mahal na mahal kita. Ako ang unang nagmamahal sa iyo. At mula sa pagmamahal na ito, kaya mo ring magmahal nang totoo, nang hindi naniningil, nang hindi natatakot na ikaw ang mawawalan. Kaya mo ring magmahal nang bunso kapatid."
It was here when I realized how truly different the hired man was from the Good Shepherd. The hired man is bent on working for pay, much like what the younger son initially planned on asking. "I'm no longer fit to be your son, I am sinful, just hire me as one of your servants, at least I can still eat well."
But the Father loves me so much that he keeps inviting me back to sonship. And now I know why that is. Only a child of God who is secure in God's love and providence can forget himself or herself and offer
life to others as the Shepherd does.
Iyon pong tao na matibay ang pananalig na iniibig siya at inaalagaan ng Diyos ang may sapat na lakas ng loob na mag-alay ng sarili sa iba.
Natapos na po ba doon ang dasal ko. Naku hindi pa po. After that prayer with the Prodigal son story, I became more
intent at begging for the gift of joy. I thought of imitating our founder Ignatius of Loyola in staying on vigil and offering his sword to our Lady. But immediately after seating myself in that beautiful chapel of the Immaculate Conception in our own retreat house in Sacred Heart Novitiate, Our Lady spoke to me gently in my mind and told me, Vic I want you to sleep and not to hold vigil here. If you stay on vigil all night, you will feel that you worked for the gift Jesus wants to give you. Now go." I smiled because Our Lady knew my dynamics well. But hardheaded me, I went to another chapel where there were mats and I slept there hoping to still somehow pray in my sleep. At around 4AM, sweet music and the smell of roses woke me up and Our Lady whispered, "O ngayon anak, magrosaryo ka na, glorious mysteries because it's now Sunday." As I prayed the four mysteries, one happy memory after another rushed into my minds—experiences which have been kept inside my heart because my mind was filled with those memories of me begrudgingly offering myself to others. And I was overwhelmed by so many happy memories in my life—real gifts from God through the years which I had failed to notice. I felt embarrassed. By the time I reached 5th mystery, Our Lady spoke again. It was around 5:30am by that time. She said, Vic if you want to pray "Queen heaven rejoice, and if you pray now that I am queen in your life and world, I also want you to rejoice in God's goodness to you." Pray outside, listen to the birds sing their praises, notice the sun fill the world with praise for our Creator. Be happy Vic because God is so good to us all and by his goodness, we live and love. When I ended with the prayer, I decided to go to the main chapel just to say a prayer of thanksgiving. I realized morning mass was going on. An elderly Jesuit was by then proclaiming the Gospel and as I came in, he was saying the words
that I felt the Good Shepherd wanted me precisely to hear: "I came that you may have joy and that your joy may be complete."
There are three points of reflection I wish to leave with you: First, in which aspects of your life and person
, do you find yourself vulnerable, having needs to fend for and so the times when you reach to people, these vulnerable areas keep you attentive to self-needs rather than to giving genuinely to others. Second, in which aspects of your life and person, have you found genuine peace and security before God and others, because you have experienced God's loving care for you. God has always taken care of you, so that you can trust God enough to keep providing and caring for you even as you also give much of yourself to others in greater need. Nagtitiwala na hindi tayo mauubusan? When did we feel that we can be genuinely happy to find others receiving things we don't have because we know we have also received much from God?
Finally, how have we nourished this living relationship with our loving and provident God that we are acutely aware of the many gifts that God is giving us everyday, even long before we ask
for the things we need, God has already thought out in great detail the graces we need day by day?
Ultimately, it is the heart of a real child of God will rise to the occasion and become like the Good Shepherd, who knows his flock most intimately and lays down his life for his sheep.
April 26, 2015 Leave a comment
« older posts
newer posts »