A Prayer to Creatures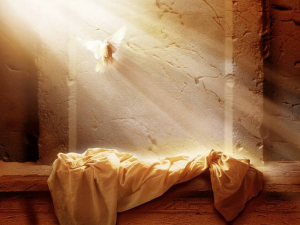 Caryll Houselander
Come, let us pray
that the seed of our life's flowering,
falls not upon rock, falls not upon thorns
or that hard frost
or among the weeds.
But today's sorrow,
prepare the world's soil
and sift for sowing tomorrow.I beseech you
be gentle.
Because, when the flame is lit,
the wax is consumed quickly.
When the leaf flowers
swift is the withering.
But if the seed falls into the heart in fallow,
the passing loveliness,
the flicker of light,
will remain in the dark night,
to flower with eternal life.
I fell in love with that poem the first time I read it. It was a woman named Caryll Houselander who wrote it. I found it in an anthology of spiritual writings written by women. There's something about the feminine heart that allows for a deep intuition into Godlife. This is perhaps why, it is to women that the first apparitions of the Risen Lord are ascribed. Hindi po totoong kaya sa mga babae unang nagpakita si Jesus ay para kumalat agad ang balita! The women were the last to bid goodbye to the dead Jesus laid on the tomb. The women braved the cursing, jeering crowd and expressed their compassion for Jesus up to the very end. And alas, they also graced the tomb that was the womb of Jesus' rebirth to new life. Caryll's poem was entitled "A Prayer to Creatures." And for a while there I read it as a woman's poem to fellow creatures. Caryll was praying about fragile life. She was praying about proper seedbeds for new life's flowering. She was praying for gentleness, for at it's peak, life is consumed so quickly. She was praying for fertile hearts, so that in death, the seed may rest in the dark only to sprout anew when the new day dawns. Caryll's sensitivity and attention to life's rhythm edifies me. I sense the fragility she feels in life. I sense that what makes lives flow are twists and turns that make up life's rhythm. And part of how I suck the marrow out of life is to listen to it, learn from it, receive from the manifold gifts that life never fails to offer to us day by day. Caryll's poem awakened the feminine in my heart. For several days it felt like I slowed down, entered a listening and watching mode to life, created some fertile space within me which lay ready when life's seeds would fall. Docility and receptivity became the theme of my life for days. And I remembered many places in life that such docility prove to be important. I thought of farmers who after planting their crop would stay in vigil until the first sprouts come out. I thought of games of poker and scrabble where one needs some time to imagine the best possible combinations of ones cards or tiles. I recall how slowly and painstakingly a sinful pattern in my character is noticed, exposed, unearthed, and uprooted in the course of long years of formation. I imagine what goes on in the heart of the mother-in-waiting as she contemplates the movement of some new life within her.
And in that powerful stance of docility and receptivity, I remember the empty tomb. Perhaps one way of looking at the empty tomb is this: a docile and receptive heart is the proper womb of our Lord's risen life. These reflections would linger in my heart until the day when I read the poem in an entirely new light. This time, the poem struck me not as Caryll's piece addressed to fellow creatures. The title struck me. It said: "Prayer to creatures." And I asked myself, might this be God's prayer to God's creatures?
Might God be talking to us God's creatures and pleading that we plough some space in our otherwise weeded or arid heartland so that the seed of Godlife may find a bed to quicken it to birth? Might God be pleading creatures to slow down, and gently take their life to heart, for human life is but a short song to sing? Might God be asking us to brave the many nights of our dying so we ourselves may give life to others?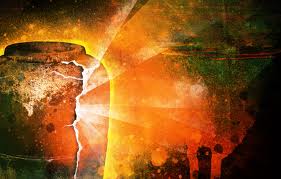 Almost instantly, I felt myself entering the heart of the crucified one. From where he was nailed, the Jesus I saw was pining for a heart which understood, a heart which empathized, a heart whose love also knew how to bleed for a loved one. Jesus was looking for one such heart, as if pleading to the Father, as Noah once did, "only one heart my Father, and perhaps all the pain will no longer be in vain." When even his closest disciples fled for fear of arrest, what can be counted as success in his life's work? After all he was faithful to his mission to the end.
When I arose from that prayer, I had a sense of what my Lord was telling me. God's redemption is there, but it is there for the taking. God was not about to force love and life to everyone. People need to be prepared. People need to be weaned out of their selfishness. People need to be formed in the way of God's truth, and God's hope and God's love.
In this quiet sort of prayer, the glory of the Easter liturgy all fell into place in my mind. I understood the rhythm that went with God's manner of creation. I understood how God builds order where there is chaos. Piece by piece, layer by layer, as an artist paints layer by layer of his obra, God prepares a world in which human life can thrive and build, and love and return to God in worship. And even though the writers of Genesis write of God's sabbath rest, I sense utter activity and fruitfulness in the way God commits to rest. And looking at the pattern of my own life and the world around, somehow I know, God has not rested in creating the world and myself. In the same vein, I see how God's creating is not without cost. God pours Godself to share life to us. God gives the Son who in turn sheds off his life to make us fill with God's Spirit. No it is not Abraham who had to give up an Isaac for his God. It was God who had to give up a Jesus for us. And in that same Spirit, we are asked whether there might Isaac's we might want to give up that means life to another.
In the same spirit, I see how God's creating means freedom for me. I understand the many times I choose to stay a slave in my own Egypts, even as God calls me to my exodus. I know the many times when selfishness is just so stubbornly set in my heart that I choose to stay in the comfort of my masks and pretenses rather than be born into my more authentic self, as the people of God was called to birth by Yahweh in their passage through the red sea. I know how even in those times when I already thread my own desert to my own Promised Land, and experience clear movement to wholeness and healing, I would look back to my Egypts with nostalgia or worse, a subtle consent to backsliding.
And yet overall, when I look at my life; when I look at my world, I sense the power of God's desire pumping life within me and around me. For I remember religious sisters passing on the last life jackets to the people around them, knowing that they will sink with the illfated ship. I remember the many generous and committed people in an EDSA rally which communicated strength of conviction as it expressed festive communion and sharing. I remember a young Jesuit who gave away his life to save a class of students already maimed by the violence in Cambodia.
And I also see countless people seriously searching for God and some others coming forward to journey with these in their search. I witness this or that novice taking to heart the prospect of a life no less than heroic. I see a wife and mother struggling to bring her diverging missions of family and ministry together. I notice God's subtle ways of drawing her most self-sufficient children into silence, docility and compassion. I notice friends struggling to stay in love despite the pain, and some others sticking it out in their simple ways and simple jobs in the passionate desire to bring focus to their service.
In these silent moments of noticing, the great throng of the Easter alleluiah fills my heart and sings with Mary Magdalene, yes, in my heart, I know my Savior lives. And I pray with the singers in their song, "May our simple lives be a song of praise to the goodness of the Lord. May the Lord delight in this song we sing, this song we sing with joy. If we had to sing just one song to the Lord, creator of life, may our lives be that song, resounding in praise to the goodness and glory of God. We are the children of the Easter morning, we sing to proclaim the Lord's might. Now there's meaning to a life of dying, for our Lord, our God has conquered the night. With joy we dedicate our lives to the service of the God of Life whose goodness we've known, until our lives be themselves our song of Easter morn.
May the Risen Lord fill your hearts with joy!
March 26, 2016 Leave a comment
« older posts
newer posts »