To Pray on and Ponder:  Luke 24, 13-35
Id quod volo (That which we desire most): To notice and savour moments in our lives when God's story irrupts into ours and with his presence palpably felt, we feel our hurts burning.
Even the most committed and loving Christians, Church leaders and ministers, included, can live months and years of their lives doing the routine, workaday, ordinary stuff without the consoling visits from God. Life goes on and on with its usual alternating highs and lows, peaks and ebbs. We even read of someone like Mother Teresa of Calcutta who spent most of her days serving the poorest of the poor when interiorly she'd feel herself wrestling or enduring what she perceived as the darkness of God's absence and so she simply prayed over and over, "Come be my Light."
In these darker moments, our better selves continue to engage the "absent God." We find ourselves like the disciples walking to Emmaus–at times reporting, at times complaining, often times asking and begging for our own needs and those of others who ask us to intercede. At other times we quarrel with him whom we know entrusted some work to us and then had since left us fending for ourselves. We lament, we negotiate for what we think are our entitlements, we vent frustration at silence. Like shadow boxers we throw punches into the air. And we do all these until we get too tired to continue crying. We find ourselves stopping our shrieks and sobs. And then when silence begins to settle again, when strong emotions fade away from within our hearts, and when our minds seem to have cleared, with the tears having washed away the webs of thoughts that had crowded the mind, then some quiet prayer begins. We get a glimpse of wisdom from somewhere that somehow allows the light to dawn. We get to discern some order and light from all the chaos that we've been through. Even when we have yet to recognize the Lord, somehow we sense we are not alone anymore and there just might be another way of telling our story so with hearts burning, we listen more to this mystery unfolding.
And then slowly, we remember parts of our lives that had been kept in the dark before. For a long time I have perhaps needed to keep to a sad, self-sacrificing story, so many joyful experiences remained cut off from my memory. For a long time I have probably needed to keep to my humorous, light hearted, comic persona before my publics and so nobody knew how sad or angry I was deep inside, and so each time sadness and anger visited me, I'd quickly sweep it under the rug so to speak, lest others or I myself begin to pay attention to these unwanted feelings and then chaos would follow. Or perhaps I have many conflicting desires in my heart that I'm afraid others would find offensive and so I keep them to myself, showing one face of myself to one of my publics and another face to another. I am perhaps the goody-goody character before my family and workmates and then become this wild and uncontrollable character to friends before whom I can let my hair down. When God begins to draw us out of ourselves, God's grace attracts our better selves and draws our hidden darker selves out as well, giving assurances that love receives the whole of our person. Love honours the better desires that made us frantically seeking and unfortunately led us to more superficial deals with the shady characters of our story. Love invites us to trust in His care and providence so that we may heal and find our way home to the one who can really put our pieces together again. Who was it who said, the reason why they couldn't put Humpty-Dumpty together again was because they only called all the King's horses and all the King's men and never bothered to call the King himself?
Then we sense, the more we allow the Lord to enter into our shadows, the more light he would bring to us. And with God's light and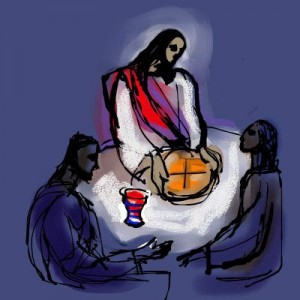 assurance of unconditional love, we make choices that are more appropriate, that express genuine love for ourselves and others. And in due time, we find our stories retold to us with less gaps, less inconsistencies, less of the shame or fear or anger or guilt. And our stories would be something we can better embrace to be mirrors of who we are and who God is for us. Yes, God becomes a visible character as well. For knowing ourselves more clearly, we begin to get a glimpse of this loving God as another beautiful character in our story who had been long hidden behind the scenes. This time God comes to the foreground and before God we can begin to face ourselves not only as whole, but also as beautiful, a character to whom God looks with great delight. We see God more clearly now and recognize him. And see God with his loving gaze fixed on us, creating us even more with his delight and love.
So that was why our hearts were burning back then. So that was why that new relationship felt right, it may have stirred fear because of past wounds, but it did feel right–a gift received at the right time. So that was why that trip seemed right. It promised new experiences, new sights, new places to explore and a new self with newfound openness and wonder. So that's why the call to forgive that person who wounded me, felt right. Humbling, daring perhaps, maybe stupid in the mind of others but the time the call came, I know it was the right thing to do. So that's why recovering the art that I've seen flourish in my younger days felt right. Returning to drawing and painting seems to draw out a lot of creative passion in me and helps me to see so many aspects of myself I never imagined were inside me in the first place. As I draw or paint, the Great artist up there seems to be drawing my self as well, and yes, I like what I am seeing.
Seeing my genuine self unfolding also makes me begin to see and recognize God for who God is, not how I thought he was on account of all the past I have endured and I thought God had caused. And ironically, while I was limiting God to whom I thought God was to justify my painful story, the real God was right there walking with me, loving me, constantly knocking at any door in my guarded self where he could enter to bring more light and love, offering me precious wisdom with which to see and recognize my more complete story which is God's story as well. And henceforth, I know I must be mindful of when my heart burns, when I sense some inner movement in my heart, those moments when my God calls my attention. For I know that if I only stay and ask the Lord to stay with us, what we previously felt as faint and subtle signs of God's presence would begin to unfold and irrupt as God's Sacred Story elaborates in my own.
And so we pause and reflect:  What 2-3 moments in your life did you sense God's presence and activity?  When did you sense God's wisdom slowly helping you make sense of your life's experiences–especially those you found too painful to hold, or for which you felt anger, fear or shame? How did you sense God helping you complete your story, gifting you with a sense of self that you can better receive with reverence and love, in all its ambivalent facts–joys and pains, sweetness and bitterness, lights and shadows, with its dyings and risings to new life?  God bless!
April 8, 2015 Leave a comment
« older posts
newer posts »