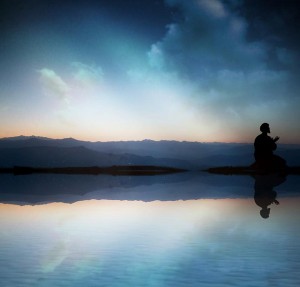 To Pray on and Ponder:  Acts 10, 34a.37-43; Psalm 118, 1-2.16-17.22-23; Colossians 3, 1-4; John 10, 1-9.
Id quod volo (That which we desire most): To be attentive to the smallest and subtlest signs of God's new light and new life in my day-to-day world, a sharpening discernment to sense God quickening in the grey areas of my life, and enough courage and generosity to meet God where he calls me so I may embrace more and more fully my vocation to be a child of Easter light and I may help accompany others who also need companions to crossover from darkness to light.
The early days of the Easter octave always remind me without fail, of three things: first, some lines in the Canticle of Zechariah which many in the Church pray at Lauds, that part of the Liturgy of the Hours scheduled to be prayed at the dawn of light, and second, the first lines of a beautiful poem for which an English Jesuit poet, Gerald Manley Hopkins is known for—"God's Grandeur;" and finally some lines from a Manoling Francisco song, "Children of the Easter Morn"
You may recall the story behind the canticle we pray at dawn: The priest Zechariah (meaning "Yahweh remembers" had been struck dumb after he doubted (he actually forgot that Yahweh remembers!) the fulfillment of God's word that his old wife Elizabeth would bear his first-born. But after his wife had come to term and gave birth the John, Zechariah confirmed the name that God desired for this child even with many of his relatives opposed to the idea (finally Zechariah remembered that Yahweh remembers!). There and then Zechariah regained his speech, and thereby he proclaimed his beautiful canticle. It is the final part of the canticle which I recall to you now:
"In the tender compassion of our God, the dawn from on high shall break upon us to shine on those who dwell in darkness and the shadow of death, and to guide our feet into the way of peace."
"The dawn from on high shall break upon us."
Beautiful, beautiful image of dawn which depicts our easter morning. We recall many horror or epic stories where ultimately the forces of light and goodness begin to turn the tide against darkness and evil, when the sun rises from the East at the first crack of dawn. Think "Lord of the Rings," or "Harry Potter 7" or even the many vampire scenes when evil is at its peak when midnight comes, but the battle against evil begins to get the upper hand, once the light of dawn peeks, bringing with it hope and victory.
The Filipino translation of the line gives me deep consolation:  "Sa habag at kagandahang-loob ng Diyos, ang ating umaga'y magbubukang-liwayway sa atin." It looks like for us Filipinos, light does not come as a breaking of darkness, something like the crack of a lightning bolt in the dark sky. Rather, light comes a lot more gently, like pins of light gently fanning out into the morning sky. With the light revealing itself gently and gradually and with it the sounds of the morning rises gently as well—birds beginning to chirp and sing and whistle; the sounds of the cicadas receding gently, as it were in sleep, and the sounds of human activity slowly rising to pitch, at times to a tremolo of praise. Unti-unti po ang pagpapaypay ng liwanag sa ating buhay.
This is where the Hopkins piece makes even more sense.
"The world is charged with the grandeur of God, it will flame out like shining on shook foil; It gathers to a greatness like a ooze of oil Crushed."
For Hopkins, the light of God is already grandeur embedded—hidden in our life's experiences. We need to attend to it till it flames out.  We need to notice the little pieces of light reflecting beautifully as shining on shook foil. And then as we perceive God's epiphanies of light, we see these lights gather into unmistakable greatness, gathering as with the slow oozing of oil.
Fr. Albert Alejo's translation of this Hopkins piece is for me much, much more compelling:
Daigdig ay puspos ng ganda't gara ng Diyos. Sisiklab tulad ng kislap ng inalog na palara; Tumitipon sa tigib na tila pagtagas ng gatang Piniga.
For many of us, such is our experience. God's light comes to us gently, fanning its way to light our dark and dreary lives. Perhaps some came into this retreat, burdened by much noise in the heart—confusions, endless questions, hurts, grudges, difficulty to forgive, pain of betrayals, difficulty in forgiving oneself, a compulsive addiction to some sinful behavior, relationships that have turned irreversibly sour and many other darknesses. But God's light fans its way gently into our darkness and tells us, "I am with you, ever with you, sin and death is no final word for us, love and life is, find my light, struggle on."
Some of us find some dead end in the way our sinful choices have unfolded and piled up in our lives and we begin to move around in circles, tired and confused and with the light of meaning fading away, leaving us in the dark. We find ourselves somewhat trapped in one or other attachment, a situation which has made us unfree, like a person groping helplessly in the dark. With only life enough to be aware of our lies and pretenses and some ounce of courage to take responsibility for them and start anew even if undoing the wrong choices seem like such an uphill climb.
Or perhaps we have been like the elder son of prodigal fame. We have been the faithful one, the one who had stayed with our fathers or mothers. And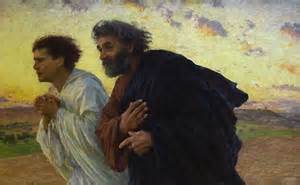 like the elder prodigal we have unwittingly grown accustomed to our role as the dutiful one and with this we have also grown a sense of entitlement for all the obligations we fulfill, nursing a hidden pride and expectation in what we have accomplished. There is still a subtle darkness there. Entitlement after all makes the heart believe that everything about love is one's accomplishment and that one ought to receive payback for the things that s/he does for others, even those s/he does in the name of love. You will know if you have fallen into the trap if you have lost the power to feel and express gratitude. But even with the lost elder son finds gentle light shining from an ever assuring father who would not feast until the elder son joins in. "Son, everything I have is yours, but this brother of yours was dead and has now been restored to life—we have to celebrate. Please, come join the celebration." God's light shines gently reminding us that anything we are able to give out of love, comes from God's love as well. It is God who has loved us first.
Even in our communities God's dawn fans away our darkness gently. We've been through a lot of darkness as a people and we've seen moments of greatness in times past. Flowers set against tanks. Small groups of people building homes for others, communities filing to help others who have been hit by calamity. When God's people are beset by crises, other parts of the Body come and help. And many times, crises help make us stronger. My wise retreatant proclaims, "Father our sufferings have seasoned me!" Naalala ko tuloy iyong t-shirt ko—"Adobo: habang tumatagal lalong sumasarap." Para ngang ganoon, dahil binabad siya sa pag-ibig na handang magpakasakit, sumarap, siya. tamang-tama ang timpla, lalong maihahain para kanin ng iba."
And so I come to my final memory from Fr. Manoling's "Children of the Easter Morn:"
The dawning of recognition, understanding, belief, renewed hope and zeal, courage and daring testimony came gradually among the disciples. After the crucifixion and burial of Jesus, the disciples were scattered. Only a handful went as far as the foot of the cross and the tomb–Mary, Jesus' mother, Mary of Magdala, Mary wife of Cleopas and the beloved disciple, John. Simon Peter tried to follow in Jesus' footsteps but was overcome by fright once bystanders recognized him and squealed him to others as one of Jesus' disciples. In Peter's fright, he denied Jesus three times as Jesus himself predicted. But slowly, Jesus would show himself alive to all of them, first, I believe to Mary, our Lord's mother, then as Scriptures testify, to Mary of Magdala, and then to the disciples hiding at the Cenacle, then further on to the Lord's second layer of disciples–presumably including the disciples who walked to Emmaus and also to the persecutor Saul of Tarsus, who after Easter light came upon him was blinded by it, so that in three days he may see again with new eyes as Paul, the great apostle to the gentiles. By the moment of Pentecost, we find the motley group of disciples already out in the streets, filled with the Holy Spirit, proclaiming what it means to receive new life in Jesus–there we really see the birth-ing of a new church, a new communion filled with the Spirit of Jesus, spreading the good news of love and mercy and compassion in the power of the Spirit.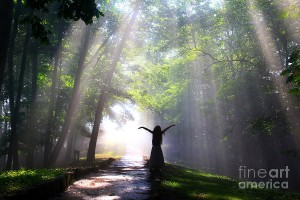 As for us in our everyday, Easter vigil, we seek small subtle signs of this new life. We have been baptised as an Easter people after all and so even in this gray, sometimes bleak Holy Saturday world, we discern God's footprints everywhere, still gradually dawning Easter light in the dark chaos, putting order into the details of our lives, creating us, renewing us, giving us a foretaste of the Godlife which he promises to make us experience when we finally come home to the Father. I always like to recall this song by the Fr. Manoling and the Bukas Palad music ministry on these days of the Easter octave. It is like a creed of sorts, an identity anthem for Easter people like us. The second stanza best captures for me the joyful proclamation of an easter child. For an easter child draws courage and zeal for living God's compassion in their service because they too first receive God's light while they groped in the darkness of their lives, and they too received God's lovingkindness when there seemed none in the world where they struggled to live. After experiencing God's personal care in people around them, they rise and join the ranks of God's ambassadors of love, dedicating much of their lives to be Christ's hands and feet for others, and so become new lights that do shine for those who still walk in darkness.
We are the children of easter morning
We sing to proclaim the Lord's might
Now there's meaning to a life of dying
For the Lord our God has conquered the night
With joy we dedicate our lives to the service
Of the God of life whose goodness we've known
Until our lives be themselves our song of easter morn.
I wish you all a Blessed Easter, and pray that we all experience this slow, subtle dawning of Easter light in our lives and through us who believe, may others experience God's light shining in their lives as well! God Bless and Happy Easter to all!
April 6, 2015 Leave a comment
« older posts
newer posts »