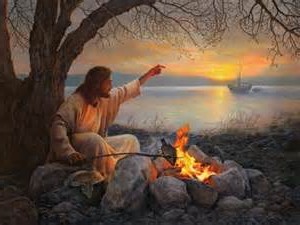 To Pray on and Ponder: John 21, 1-19
Id quod volo (That which we desire most deeply): A renewed encounter with the Risen Lord who receives us in mercy and compassion and heals us from the misery of sin to renewed sense of the Lord's entrusting to us of our share in His mission.
I am not sure if we are supposed to assume that this apparition of Jesus to his disciples by the lakeshore of Tiberias happened after several other previous apparitions had already taken place, but this particular apparition somehow represents a "complete" religious experience in itself. When Peter announces "I am going to fish" it sounds to me as though Peter was taking on again the things that he had left behind when he first chose to follow Jesus. And to me this was a sign of misery–a backslide of sorts. The leader of Jesus' followers was stepping back from mission and returning to the life he had before he followed Jesus. And now, all the other disciples wanted to go with Peter. They all went out and got into the boat. But like that scene in the Sea of Galilee when Jesus called the first disciples, they caught nothing. Life and ministry without Jesus are always wanting in fruit, and yield nothing.
And then of course, Jesus appears and all things change."Cast the net on the right side of the boat and you will find something." Was it the case that all night long, the fish hid on the right side of the boat and rendered the left side empty? Weren't they working in the same lake? Or was Jesus talking about that working on the wrong side of things because the Lord was not with them in their work? And so when they cast the net again on the right side of the boat, they did catch fish–an abundance of fish! Immediately John knew and said to Peter, "It is the Lord." And hearing John's words, Peter dressed up and then threw himself into the water, wanting to immediately swim to shore and see Jesus. For some reason though, Peter reached the shore last, while the two boats filled with the big catch reached the shore aheard. Before disciples could come around Jesus, the Lord already shouted to invite them by the fire. "Bring some of the fish that you caught," Jesus asked.
In my own contemplation, a very humorous, irreverent Risen Lord was presiding over breakfast–keeping the tone of the conversation light and humorous, as if to lighten up the tension among the disciples who seem to continue doubting and to draw his followers into fuller reconciliation and restoration of communion. I mean I heard Jesus calling out to John and Andrew–telling them lovingly to sit on his right and on his left, "o, at least while I'm still here on earth, enjoy the moment, for in this breakfast, you will be the chief waiters. (And the disciples laugh hard!) "O Matthew, can't you clean the fish any faster? I bet you're still looking for coins in the mouths of fish that's why it's taking you so long! (And the disciples laugh again!) O Nathaniel, what are you doing by the fig tree–are you doing what I think you're doing? There's a comfort room somewhere near that house, you can pee there. (Haha, the disciples laugh yet again!) O Simon, please call Cleopas, Mary and Mom. Mom just went to the house because she wanted to prepare fried rice for you to go with the grilled fish. Peter finally reaching the shore, went closer to the group sheepishly. Jesus handed him a towel saying, "Finally, you're here Peter, come closer, come by the fire. Here's a towel you can use to dry up a bit. I wouldn't want you sneezing before the cock crows–the disciples laugh again, with Peter showing on his pale-pink face a grin masking a frown.
When the meal was in progress, Jesus said, "a few days more I go to my Father in heaven, but you can be sure, I will go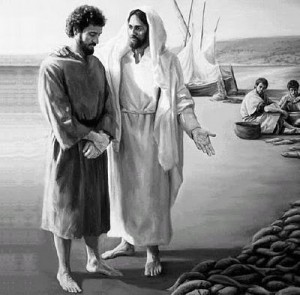 ahead because I want to prepare a place for each one of you. When I leave, I will entrust you to the Spirit, he will take care of you, and will empower you to forgive those who repent of their sins."
And then Jesus called Peter whom he really wanted to confirm as his leadership is crucial for the group. Peter himself receives mercy, with Jesus asking him three times to confirm his love and to renew his commitment to support his brothers and as it were, feed the sheep. Three confirmations to heal the pangs of his three previous denials.
But the one really touching part in this reconciliation conversation between Jesus and Peter was this: "Amen, amen I say to you, when you were younger, you used to dress yourself and go where you wanted; but when you grow old, you will stretch out your hands, and someone else will dress you and lead you where you want to
go . . . follow me." The evangelist John commented that these words of Jesus indicated the way Peter was to die. By tradition we know that Peter was crucified as Jesus was, but at Peter's request, the leader of the apostles asked to be crucified upside down for he felt himself unworthy to die his master's death.
To me, Jesus' words can also indicate the kind of obedience that all followers of the Lord experience growing in their hearts as they mature in ministry. It's this sense of being drawn to follow more faithfully and with less and less self-leading, just a free and focused following of Jesus' lead.
And so we pause and reflect: When were those moments when we entertained some doubts in the Lord's presence in our lives, especially in moments of crises or darkness? Return to those moments when we were tempted to take on once more sinful practices and destructive ways of coping that we lived by before our self-commitment to the Lord? How did these episodes of "backsliding" feel? From what we notice in our experience, how does God call our attention and make us remember our covenant with him and renew our love and commitment to him and his redemptive project?
As we continue to reflect on the Easter mysteries, may we also heal through God's gift of mercy and receive a renewed entrustment to us of mission. God Bless!
April 1, 2016 Leave a comment
« older posts
newer posts »