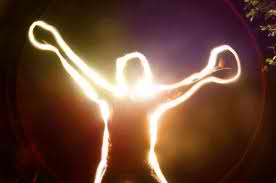 Scripture Text to Pray on and Ponder: Matthew 16, 21-27Id quod volo (That which I desire most): Light to see the deeper meaning of the Cross in my life of discipleship, so I may embrace self-sacrificing love as a real sign of God's loving presence in my life and world.
Our readings for this morning invite us to reflect on the shadow of the Christ's cross in our lives. The closest I can describe what this cross could mean for us is to use the phrase "self-sacrificing love". A deep love we can feel and offer for a person so much so you are able to sacrifice much just so you can make that person feel your love for him or her.
Once I made a retreat with the former Jesuit Fr. Antonio Lambino. And he recounted to us a story about a woman who stared at the sun directly, seemingly unmindful of the ill effects this practice might have on her aging eyes. One of the concerned neighbors finally had the courage to approach her to ask what the matter was and why she was doing this. The mother was told to have replied quite briefly and to the point: "You see, somewhere in Vietnam, my son, remains and is suffering. A fellow of his who was fortunate to have returned from the way told me the unfortunate news that my son got blinded while in battle and that was why he wasn't able to escape with them. Each day that I feel I experience a fraction of that blindness, I also feel closer to my suffering son. I can't bear the thought that my beloved son is suffering more than I am."
"Foolish and impractical!" some of us may be led to say. But a few would be able to deny that what the mother was doing was in fact a genuine show of love. The logic of genuine love always goes beyond what is practical and what rationalization can calculate. For the human heart can find in itself a capacity for freedom and a profound commitment to a beloved that is far beyond logical expectation. It is only within this perspective of genuine love that I am able to understand and fathom the depth of Jesus' choice for poverty, humiliations and humility in his response of love to the Father and to his closest disciples and circle of friends. I guess someone who really loves another will find it hard to allow a situation where the beloved suffers more than he or she does. I recall a scene from the beautiful C.S. Lewis biopic, "Shadowlands" where C.S. Lewis while beholding her suffering, cancer-stricken wife, Joy, prayed to God so that he and not she might experience body pain caused by the cancer, even if only for the last few minutes of her life–that she may die in peace and tranquility rather than in severe pain. The smile that flashed from Joy's face and the pain the C.S. felt were confirmation enough to C.S. that the Lord had answered his prayer.
A third story I recall is something that my theology professor Fr. Catalino Arevalo once recounted in a homily on the cross. He said in a communist country abroad, a very young man was executed before a big crowd and the persecutors did not know that the prisoner's younger brother was in that crowd. As the prisoner was being crucified, a practice which clearly mocked his beliefs, the younger brother was said to have whispered, in the tune of a Jewish Psalm of Lamentations, "why, why o Lord have you forsaken your people, where are you in all these senseless suffering?" And then a taller woman who stood beside the young boy, one who the boy did not know, held the boy's hand and whispered back to him, "he is there son, God is right there, suffering with your brother."
Let me now propose some meanings of the cross for us.
First, the cross is deep love that draws us out of ourselves and draws us closer to God who is Love incarnate. Even though the cross is a sign of the depth of cruelty and violence in humankind, it is also a sign of a love that simply refuses to accept such sinful violence to be the final word in a human life. For from the heights of the cross, we find a man broken of body but certainly not broken in spirit and has deep love enough at heart to look with love at his persecutors and say a prayer of mercy in their behalf: Father, forgive them for they know not what they do." And here I find echoes of St. Francis Xavier's prayer to the crucified Lord whose Jesus flashes a smile in his face.
Hindi sa langit Mong pangako sa akin
Ako naaakit na Kita'y mahalin,
At hindi sa apoy–kahit anong lagim–
Ako mapipilit nginig Kang sambahin.
Naaakit ako na Ika'y mamalas
Nakapako sa krus, hinahamak-hamak.
Naaakit ng 'Yong katawang may sugat
At ng tinanggap Mong kamataya't libak.
Naaakit ako sa 'Yong pag-ibig
Kaya't mahal Kita kahit walang langit,
Kahit walang apoy, sa 'Yo'y manginginig.
Huwag nang mag-abala upang ibigin Ka
Pagkat kung pag-asa'y bula lamang pala,
Walang mababago, mahal pa rin Kita!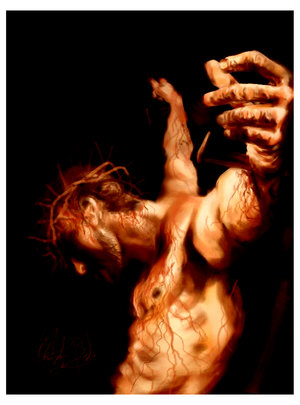 Francis Xavier a young man who used to be given to worldly vanities is slowly drawn to this self-sacrificing love of Jesus and has his life turned upside down with the words from Sacred Scriptures that go: "For what good is there for man to gain the whole world but lose his soul in the
process?"
Deep love attracts us and inspires us, draws us out of ourselves and makes us reach out to others with the same love that healed us and made us whole. This brings us to our second point.
Second, there is something about the cross that renders the venom of sin and death powerless because love has generated power for new life to spring forth from the very muck of sin. At Calvary we can look at the crucified Lord and be filled with horror at the limits that proud sin and violence will go to try and bring a person down and eliminate him because he is a threat. We can also see a man broken and his ministry project effectively halted in failure with all his friends, family leaving him behind out of fear or frustration.
Yet, on the cross we see the tremendous power of love and hope. Especially in the Gospel of John, Jesus is exalted in glory even as he is crucified. For on the cross he said no to the power of sin and by his no, he effectively put a stop to sin and death. By his very offering of life, Jesus proclaims that love has conquered death, and never again can death threaten to leave humankind alone and unloved. For God will always be on the side of those condemned to the fringes and those who are left unloved and uncared for. God will always be with us. On the cross, Jesus also proclaims to the world that there is "meaning to a life of dying" and we do not need to fear death. For if death meets up with our freedom to love to the end, then our offering of life will surely bear fruit in new life for others.
Finally, we see that where sin and violence scatter and divide, the love that shines forth from the cross draws everyone and gathers all into a communion.  For looking at the man crucified, we are awakened to the love that heals us. We awaken to the love that builds among us who share the experience of being loved to the core and without condition. When are made to remember how God has loved us with such a cost, we are moved to love others in turn.
So we pause and ponder once more: How deeply have I really known the love of Jesus? How much of his love draws me out of myself to bring myself to love others with the love of Jesus and to embrace this love even at the risk of suffering for it? Consider each person I find in my circle of relationships–what sort of love am I able to radiate to them? Am I able to make them feel a little more deeply, the love that only Jesus can give?
September 3, 2017 Leave a comment
« older posts