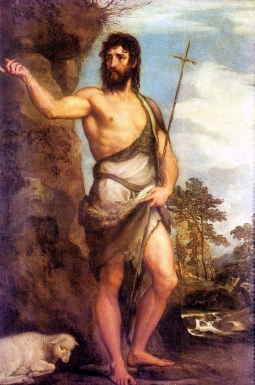 To Pray on and Ponder:  Mark 1, 1-8

Sa Monghe sa Ilang
Fr. Victor Baltazar aka "Reggie Adviento. S.J."
Monghe sa ilang, makailang ulit kang
namangha't nag-animong makatang
takang tumikom ang bibig nang bumigkas?
Monghe sa ilang, makailan mong inusisa
'yang puso mong balisa't tila binabalasa
ng tadhana iyang sariling 'di mabasa?
Tinig mo'ng pumailanlang sa ilang
at nahilig ang 'di-iilan;
bumaling, nahumaling sa naulinig.
Kaytalas ng 'yong dila:
tinudlang walang takot
ang sa batas ay sumira;
maging hari't kanyang harot.
Katapusan ang 'yong balita–
paghuhukom, iyong sumpa.
Pagkagunaw ang 'yong babala;
pagsisisi'ng paanyaya.
Bakit nagulumihanan sa
tanong na natanim
Nang sa wakas ay dumating
S'yang tila 'yong pinakaaasam?
Sabay pagpugay at pag-amin
nang binyagan mo S'ya't ipakilala:
"Ako'y tinig at Siya'y Salita;
ako'y lingkod, Siya ang dakila."
Tinig ay tagawika; Salita ang siyang Balita.
Ang tinig ay tinig; salita ay Salita.
Kaybaba ng 'yong puso't naamin sa madla:
ang lampara'y lampara't iba sa Ilaw ng Salita.
Lalaging tagahawi ang tagahawi ng landas;
ang landas ay landas ay Landas.
'Di ang abay ang ikakasal; siya'y abang tagausal
ng Salitang dumaratal.
At ikaw, dakilang monghe,
Maging ang isinigaw mong hatol sa iyong ilang
Ikinamatay mo't pinangatawanan.
Matapos sumaksi papanaw ka na't tinig ka lang at Salita'ng marapat luminaw.
Kaisantinig ng dugo mo'y
bubulong  Siya sa simula,
pagkadaka'y bibigkas at lalakas:
iigkas ang walang lakas
magkakahimig ang walang tinig; walang tinag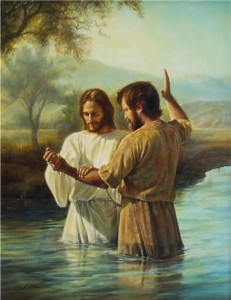 hanggang sa inggit ng nagbibingi-bingiha'y
dalhin Siya sa bingit ng bundok ng kamatayan,
itulak: itarak sa pulso niya ang pako.
Dugo ay bulong ng patawad
na lumigwak sa kanyang puso.
at nagsasanlibo't-isang patak
ng buhay ng pag-ibig
ang kukurus sa landas ng libo
pang bagong maninindigang bibig..
Monghe sa ilang, pihadong payapa ka na't higit
na masaya at buo ang loob sa 'yong
bagong ilang na langit.
Nahawan mo na ang daan,
mas hayag na ang Landas.
Tiyak kong kaisantinig mo na Siya
Salitang tuloy pa rin sa pagsangyaw:
May bundok pa ring papatagin,
May lambak na pupunuin,
sa liwanag at pag-ibig nililitis ang
mga puso at bayan;
sa tanglaw at pagsuyo titipuning
muli ang buong kawan,
At liwanag at pag-ibig ang
siyang huling salitang
mumutawi sa papuri ng lahat
ng pinaghaharian.
At oo, nangyari na ang minsan mong inasam:
ika'y naglaho't samakatuwid, nabawasan,
at Salita'y sukat tumingkad, at oo, nadagdagan.
At mangungusap na ang Langit:
"Heto na aking Anak, Siya'y inyong pakinggan."
I always thought that if the Advent Gospel cycles were a stage play or a concert, the characters who appear on the first weeks must be important "front acts" that prepare us for the coming of the real star of the event, who is the Messiah who is to come. Those who prepare the way for the lead characters are important in disposing an audience for the coming of the main artist. They help establish the appropriate mood and decorum on the part of the audience for the major portion of the show. They help build excitement, anticipation, expectancy. So that if we were to use the classic dramatic structure called Freytag's model (named after the theory's model, Gustav Freytag) which portrays the first part of a show as essentially the initial salvo, the rising action that launches the drama on its way to the climax, the front act serves to prepare both stage and audience for climactic build up for which the main act is responsible.
For Advent, I would say, it is clearly John the Baptist who is first front act. And he clearly portrays himself as such. He is "the voice crying out in the wilderness calling the people to repentance, so to prepare the way for them as the Messiah comes." Many symbols that the Baptist uses for himself or that the story attributes to him—bridegroom, voice, lamp, preparer of the Way, the bridge between the old and the new (testaments, I suppose) and the greatest of the prophets of old, while he remains no greater than the least of the Kingdom—all these indicate that this front act does his role well in preparing the people for the lead character who comes, but it remains the main actor of the story who will establish something radically new and different! I guess this is because it is the Messiah himself who brings salvation and anyone who does the Baptist's role for us will do best to prepare us, but the actual encounter between the Messiah and ourselves, the actual intimate relationship that is established and built, no preparer can do this for us. Like our old Jesuit philosophy professor used to teach, "thinking is very much like swimming. Someone can give you all sorts of theories and instruction on how to dive, how to tread, how to float and how to move your arms and feet to start swimming, but none of these instructors or instructions can do the swimming for us, in the end we all have to jump into the water and actually swim–"lundagin mo babehh!" Fr. Ferriols would tease.
Having said all these though there remains a space for profound gratitude for all who played John the Baptists in our lives–certainly, they're too many to mention! I paid my respects to a big group in my list when I visited the Jesuit cemetery in the novitiate compound. The novitiate after all is womb and tomb to many Jesuits. But before I honor my Jesuit forebears, let me begin with my earlier "baptists."
On top of the list of course is my mom, Josefina, who instilled fidelity and devotion in me through our very regular family rosaries and Sunday masses at the old military camp chapel of Our Lady of Mt. Carmel in Libis. This daily prayer ritual grew into daily quiet time with the bible which by God's good grace was taught to me by an protestant campus evangelizer as early as when I was ten. Protestant fellowships nurtured my love for the biblical text and community fellowship, but somehow Marian devotion did not sit well with them. When these conflicts came to head, I thought hard and deep, and drawn by the love of my mom even from a distance, I just thought to myself, when the Church was just a fledgling Church after Jesus had ascended into heaven, the first generations of believers gathered around Our Lady and together they kept pondering on the meaning of the Jesus event for all of them. Mary's maternal role for this newly born Body of Christ must have proven essential because many of the new believers did not know Jesus at all and among the early disciples it was Mary who had the most complete story to tell about Jesus! Today I may not be as devoted as my mom in praying the rosary, but certainly when close to times of commitment or when critical moments visit that challenge me to core of my faith, the presence of Mary becomes very palpable to me, reminding me of everything Jesus has come to mean for me, re-birthing as it were the Christic in my soul to guide me back on track.
My father, Angel was not as avid a churchgoer like my mom. He speaks of having been disedified earlier by people who go to Church regularly but led their lives with much inconsistency. From my father thus I learned about fairness and justice, diligence, care in the details of service, and serious adherence to one's word. Pretty much like St. Joseph who has no recorded word in Scriptures, I guess my father's main instruction to me was all about silent witness, silent presence which protects and provides. For sure there was much woundedness in my father too, for you can sense much worry and anxiety when he retreats into silence at night and somehow anesthesize his worries and anxieties with his daily drink. Once when I had a chance to renew my Jesuit vows in a program in Canada, my mom in attendance, my dad who had passed away many years previous to that year, seemed present to my consciousness as well, smiling radiantly with the assurance that he is proud of what I have become and he expressed misgiving over my entering the seminary only because he thought with my ateneo education and all, I could have aimed "higher" which of course for him like many parents, meant–a more lucrative career path. In prayer I would tease my dad time and again, "don't you like this, I am a member of a great multinational corporation, haha! it's just that we have quite a different product to sell."
Of course there were so many religion teachers, mentors, counselors, advisers along the way as I did my basic education. But perhaps the most impact on my character came from extra-curricular activities. Foremost of these would be my attendance for many years in a program by the Religious of the Good Shepherd, especially Sr. Rivkha Rogacion–the Peer Counseling Program. San Jose seminarians who I first met in catechism classes at the Quezon City Science High School would come back to my life introducing me to the idea of the priesthood. For awhile the idea was also tainted with prejudice against the Jesuits. I guess those young seminarians also had their own difficulties at the seminary. What stuck to my mind as a young high school student was that in their mind the Jesuit mentors they had a love-hate relationship with took all the thighs and legs while only the wings and necks of the chicken remained when they were served Chicken stew for a meal at the seminary. And so little me thought of how horrible Jesuits were to do that. Ironically all those Josefinos who had planted the seed of vocation in me had all left the seminary and pursued other paths.
Those early prejudices against the Jesuits would somehow heal and purify when I finally entered the Ateneo as a college student on scholarship. In the first place, a Jesuit who would be a long time mentor to me, Fr. Raul Bonoan, gave me the scholarship when he was still Director of Admissions and Aid. I also joined a major exposure program in Mindanao and I had contact with Fr. John Krebs at a time when a Filipino Jesuit was killed by an assasin's bullet right after mass and in front of his altar servers. I did not come to know Fr. Godofredo Alingal personally, but his martyrdom certainly changed the course of my life radically. When I returned to the Ateneo on my third year, I decided to shift from my business course to development studies, and from hereon I would find myself joining in political work, social justice advocacy and student organizing.
By the end of my fourth year I was very seriously entertaining the question of joining the Jesuits but it was 1983. Events would unfold that would lead to the assasinations of Ninoy Aquino. I was still deep into political work, working with farmers, cooperatives, urban poor dwellers and political detainees. I was also helping out in the newly resurrected alternative school paper (Matanglawin) which provided a platform for the more socially oriented issues of the time. Towards graduation, I thought of making my senior's 8-day retreat with Fr. Joe Blanco, a Jesuit known for his leadership in the active non-violence movement. At a critical moment in the retreatant, I asked Fr. Blanco as serious question that was bothering me. I asked him, "Father, given the chaos in our political scene, might God not want me to remain a committed lay person and not a Jesuit novice. Doesn't this latter option seem like a cop out at this time?"
Fr. Blanco remained silent and in deep thought. And then he looked me in the eye and said, "Vic you may be right. We need many committed lay Christians at this time of chaos. But what if God is calling you to become a priest who will help form committed lay Christians? I was dumbfounded by Fr. Joe's response and because of that, the doors of my heart would remain open to the prospect of the priesthood. I decided to work at the Ateneo for three years and reconsider the option after that. I became a Director of Student Affairs at the Ateneo and who could be a better boss to me that Fr. Raul Bonoan, the Jesuit who opened the doors of the Ateneo to me. After EDSA revolution, it was rather clear to me after I saw the Jesuits move about through the EDSA revolution–that style is style, that kind of service is the kind of service I want to do for the rest of my life. And so despite the lateness of an application, I asked permission from my boss, Fr. Bonoan who immediately said–let it pass, it might be just the euporia of the revolution. But somehow word got around and I received a phone call from the then Provincial, Fr. Ben Nebres, who simply instructed me to talk to several Jesuits to see if an application was warranted. I did enter in 1986 and from hereon, more Jesuit "John the Baptists"came to my life–my novice masters and mentors, Fr. Mat Sanchez and Fr. Benny Calpotura; my spiritual directors, Frs. Benny, Art Borja, Ruben Tanseco, Pepe Fuentes, Tony Lambino, and Eva Galvey. The superiors and mentors who had helped me a lot—Frs. Rene A. Ocampo, Joel Tabora, Bro. Jim Dunne, Archie Intengan, Noel Vasquez, Bill Kreutz. Then there were illustrious mentors in spirituality–Arthur Shea, Ken Bogart, Bob Rice, Tom O'Gorman and once more my novice masters, Mat and Benny. Some companions through formation have also provided constant support and presence–Fr. Manoling Francisco, Jun Borres, Manny Uy, Cesar Marin, Karel San Juan, Nono Alfonso, Gabby Lamug-Nanawa, Totet Banaynal, Kim Lachica; Heru Prakosa, Petrus Puspo, Joseph Chun and Andreas Setyawan. Some of them have left the Society for other paths but they remain close to my heart–Alex Puente, Joel del Corro, Mike Lambino, Roy Cosca and Rady Olazo. I think of many other people who have touched my life with richness and wisdom–Eva Galvey, Aida Endaya, Rory Valdeleon, Liya Vidal, Tina Montiel, Francisca Gloria Bustamante, Monchito and Tina Mossesgeld, Sr. Celine Santiago. Then there were my other mothers and benefactor-friends–Alice Chan, Luth Lavadia, Siony Kalalo, Girlie Kitami, Jane Franco and in many ways, my sisters, Rose, Lizzie, Ochie and Ela. Bosom friends with whom I experienced profound comunity life and friendship–Most "Lay friends with the Lord"–Miel Reyes, Karel San Juan, Mila Lagrosa; YMCA friends–Pastor Erich, Paul Balenton, Ditas Pinili-Yutuc, Roland Ubando; "Friesuits" from My Social Apostolate days; Confraternitas Jesu, Lino and Lito Rivera; CLCP; Gabay and QC Science Alumni, and many, many more as I go more deeply into memory lane. The fullness of God's love in sending me these Baptists has been filling me to the brim.
These days, by God's good graces, I find myself in a very joyful and supportive Jesuit community–one I'd be all too happy to break bread with on the occasion of our vows, they too are my present John the Baptists and they help me sense the deep joy of the Gospel every day I wake up to a new day of living and serving as a Jesuit. And a life of giving becomes all the more meaningful because you do it with joyful companions I have been gifted with at this point of my Jesuit life.
Today, two nights before my final profession, I am filled with profound gratitude to a God who has been real Shepherd to me, sending me the right John the Baptists whom I needed for one or other stage of my life. There had and have been more of these baptists, many unnamed who had been part of my journey–all of them preparing the way for my restless heart to find its home in the peace in my Christ. I thank the Lord for all of them and I invite all of you as well to contemplate all your baptists with gratitude and praise. God Bless!
December 10, 2017 Leave a comment
« older posts