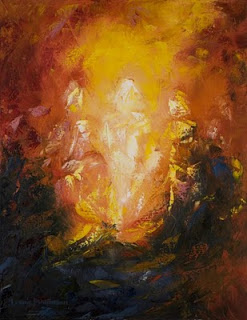 To Pray on and Ponder: Mark 9, 2-10
Id quod volo (That which we desire most): To encounter Jesus whose personal integrity and passion shine forth as the Father confirms his deepest identity as Son and expresses deep delight in his faithful and passionate embrace of his mission as Messiah. To notice in ourselves and take consolation when such resonant experiences happened us and made our faces shine as brightly.
I am sure that the mystery of the Transfiguration of our Lord carries meanings that are more than we can ever explain or imagine. For one, we know that this momentary epiphany of the Lord's Divinity to his closest disciples was meant to strengthen them before the days of the Passion. Crucifixion and Death arrive, a peak into future glory and victory of our Lord over death and violence. Just for this morning though, let me propose to you three human experiences that make a person's face shine, that perhaps help us to make sense of the deeper mystery of the Lord's transfiguration. I've seen these human experiences happen to myself and to other people especially in the context of profound religious experiences.
First, I've seen a face shine when the person comes to terms with a reality that he or she has been struggling with. It may be a problem whose resolution has been long in coming. Or a period of grieving for some loss has passed. Or the person experience the joy of discovering a key element in a problem or coming an insight to a question that has bugged her for some time now. In these situations, the person's face shines because things have fallen into place and each piece of the puzzle so to speak has begun to make sense in a whole picture that has finally emerged. This experience of a puzzle coming to place was in fact something that a friend shared with me when I asked her how her previous long retreat went. She said "Vic, do you remember that grade school science demonstration which our teachers did to teach us about magnetism. You know the teacher takes a sheet of paper, places some iron fillings on the paper and then she puts a magnet under the sheet and lo and behold, the iron fillings come together and form a pattern. When our teacher moves the magnet about, the whole bunch of iron fillings moves with it. You know Vic, before that retreat, I was like those scattered pieces of iron fillings, and in the retreat, God was a powerful magnet that pulled my scattered piece of self together and formed some pattern in me. And the pattern that I saw was good, very good."
A second place where I've seen a person's face shine is when a person is able to acknowledge some wrongdoing, some pattern of disorder that had been kept secret for a long time. It's as if the person has been living in a shadow, in the dark and the guilt and shame of it all have registered on the face, in lack of focus, lack of interest and energy, some kind of tepidity or sloth. When a person comes to a moment of grace and with great honesty and courage, takes responsibility for his or her bad choices, the person's face lights up, some burden is lifted and a sense of freedom is felt, peace and joy settle in. With nothing to hide, and no guilt being carried on one's shoulders, the person moves about with a certain lightness and focus, a greater presence and availability. The face shines. This second point though might not be in synch with explaining our Lord's transfiguration, because in faith we believe that no sin has found a place in our Lord's heart even as he was fully human as we are. But perhaps we say this much: that he did struggle through temptations as well, he did experience critical moments of choice and in those moments when he makes real some choice that brought him closer to his Father or more, resolved to give himself totally in the name of love, his face lit up and shone. And this brings me to my last point.
A person's face lights up with the highest wattage, when the person comes home to his or her deepest identity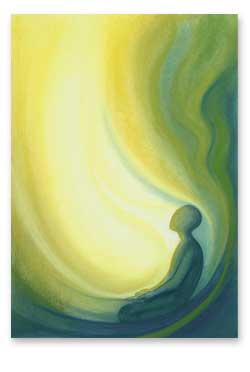 before God. When the person is able to discover and be at peace with who he or she is and proclaims it, lives by it before others in relationship, in some purpose or mission, witnesses to it without fear or shame, and more, when he or she senses others affirming him or her with delight, especially those people who matter most to him or her. With our Lord, the Gospels tell of some of these moments in his life–at baptism and now in this moment of transfiguration. He touches base with who he is, embraces more fully what his mission is all about, at this stage perhaps the prospect of fully offering himself for the people he loves with the Father confirming his deepest identity as Son, a Son who elicits God's deep delight: "This is my Son with whom I take deep delight! listen to him."
And so we reflect and ask: In which 2 or 3 moments in our life have we seen our face shine, as though a light from deep within has lit up like a bulb of high wattage? How much of this "transfiguration" happens on account of an experience of deep religious experience–whether of being released from the burden of guilt or shame, or experiencing some aha experience–an experience of wholeness, or perhaps the profound experience of coming into one's own, in one's deepest identity before God? May God gift us with this profound religious experience of encountering him genuinely and experiencing his transforming grace most intensely. And as we celebrate as a people remembering the glorious days of EDSA people power, when heroism and selfless giving of self for love our country shone forth amidst the dark ways of dictatorship and abuse of power, may the Lord grant us as a people with fortitude of faith and genuine love for country to dedicate our lives once more for the common good of our people. God bless!
February 25, 2018 Leave a comment
« older posts