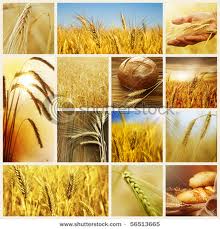 To Pray on and Ponder:  Matthew 13, 24-43 (Sunday Gospel, June 20)
Id quod volo: To notice and align with the Spirit of Light at work, drawing out the good and strengthening the fibre of holiness in our hearts and our characters as we continue to live in situations of ambiguity and grey, and with hearts afflicted with ambivalence and mixed motivations.
Most homilies and reflections I read on yesterday's Sunday Gospel focused on the humility and self-restraint we are invited to as we face the reality of "weeds" in our lives. We take notice of the weeds, and follow the Lord's counsel in their regard–allow them to grow with the wheat, because if we pull them out at this stage, we might hurt the wheat as well, and then deal with them at harvest time, pulling them away to be burned while we keep the wheat in our barns.
It may be good though by way of a postscript to continue our reflection about what we can do, while we still have the weeds in our midst. We are not after all left paralyzed with evil influence lurking within us or around us, ready to strike us with its venom anytime we seem vulnerable to its vicious attack. In the spirit of the Exultet's "O Happy Fault" and St. Paul's "God drawing out good in all" we propose three ways by which our heightened awareness of the sinfulness in our lives can make us stronger followers of God.
First, the humility that "weeds consciousness" can bring us to embrace reminds us time and again that the challenge of holiness is not within our effort to achieve, rather, it is a work of grace that we need to constantly open ourselves to, surrender to God's light and love and receive totally as gift from the Creator who continues to mould us and shape us with all things that can possible break and make us. "Humility" comes from the word "humus" which means "soil" or "earth." I guess this indicates that only when we get real and know who we really are, small creatures fashioned from the earth,  can we truly become good medium for the seeds to grow. When we allow our egos to bloat and unmindfully entertain unrealistic images of self on account of the weeds, images that tend to discount the presence of God in our lives, we begin to have distorted thoughts of not needing God's loving care in our lives. "Weeds" can be that "thorn in the flesh" which makes us feel constantly on guard, constantly in need of God's grace, constantly coming home to God to ask forgiveness, healing and strength with the faith of the centurion: "I am not worthy to have you enter my roof, but please, please say the Word and my soul shall be healed."
Second, weeds, as they continue to engage us may be threatening and destructive of our moral fiber, but they also help us gain insight into the workings of evil in our hearts and in our world. Their constant activity in our consciousness and in people around us help us learn wily patterns and strategies of the "enemy of human nature" as the Jesuit founder Ignatius of Loyola would call the evil one. Ignatius suggests ways in uncovering these strategies: first, we always have to face them squarely and respond to their temptations with resolve, never leave ourselves wishy-washy about our responses, never pretending to simply ignore them but really acting against these temptations as soon as we are clear that they are indeed temptations; second, we always have to bring them to light, never keep them secret in the dark where they gain power; third, that we must also be mindful how we are weak in relation to these evil patterns. Ignatius says, the evil spirit is like a military general who constantly examines our fortification so it may locate weak spots which it will then pound relentlessly until we fall. And so it is important to be acutely self-aware especially of these weak points and that we regularly ask God for reinforcements in these weak points.
Third, "weeds" also help us by leading us to reflect back on the journey we have trekked so far, and see with much faith and gratitude how God has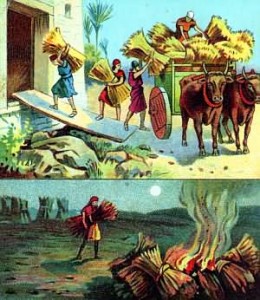 taken good care of us, even in those dark spaces when evil seemed strong and powerful, God has seen us through. We look back and see how even when we seemed downtrodden, God has continually sent people and experiences that sustained us, made us survive, brought out resilience and character from within us even, helped us keep finding the right path when we seemed lost. Alas, that awareness of our "weedfulness" help us become mindful as well of all the gifts that God throws at us as those saving floats thrown at people who fall into stormy waters. Sometimes in God's wisdom, why even the weeds themselves become gifts to us in that their happening in our lives can be the occasion of our genuine conversion and growth as children of the light. No, I don't say God himself threw those weeds at us. The Gospel assures us God only planted good seed and the weeds came from the enemy. But yes, there is no stopping God, God is after all the Creator of all things and even the weeds of the enemy he can transform into wonderful instruments of the light. Needless to say, this whole process also strengthens our capacity to discern wheat among the weeds and to help us exercise prudence, courage and good judgment when the time of reckoning is already upon us and the Lord asks us to make the hard choices.
And so we pause and ponder:  Where in your life do you sense "weeds" to be growing and constantly injecting life-threatening venom? How do you notice God helping you find the path to light, to growth, to love as you bring yourself to greater mindfulness, humility and great need for God's light and love amidst these weeds? Where do you sense have you felt deeply graced that even the weeds have become gifts of God to you, drawing strength and character, making you the instrument that you are in ministry, sealing a quite intimate bond between you and the Creator? God Bless!
July 21, 2014 Leave a comment
« older posts
newer posts »