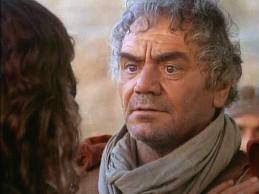 To pray on and ponder:  Luke 7, 1-10.
Id quod volo [That which we desire most]: To encounter Jesus who calls us to humility in our reception of God's Word, preparing a heart that is open to listen and to receive, to let go and to surrender ourselves to a fuller embrace of what God desires for our persons and our lives.
The faithful Roman Centurion is a character in the Jesus story that never ceases to draw from deep within me, profound awe and wonder. For one he is a character that is considered an "outsider" from the perspective of Jewish faith as well as the budding core of the Jesus followers, who by that time still considered themselves belonging to the Jewish faith community as well. As an outsider, a gentile, he is considered impure and not fit to come in the presence of Jewish shrines, holy places and persons. At the same time, it is unthinkable that he a Roman official would do favours for a slave. But these he does–he abases himself, thinks kindly of his slave and out of compassion for his servant, does what is unthinkable–he sends word to Jesus to petition a healing.
And we see how humbles himself and how he pays respect to the Jewish law which really does not cover him–he asks for Jesus to come to him as he considers himself unworthy to enter the Jewish household where Jesus' holy presence dwelt at that time. Also he dispenses Jesus from coming to his household to make the healing, but to simply say the healing word from a distance. We (yes, we are really gentiles too, technically!) emulate the centurion's humble act when as we approach to receive the holy eucharist, we are all asked to pray at mass, "I am not worthy to have you enter under my roof."
Jesus eagerly consented to the Roman Centurion's plea, he wanted to go and visit the Centurion's house. Jesus does not ordinarily mind going beyond these protocols of the Law. He does not consider himself defiled by contact with gentiles or sinners, rather his presence purifies and sanctifies people and places he encounters. Leprosy does not defile him. Instead Jesus touches lepers and they are made clean. Sinners do not defile him, neither the custom's man Levi or Zacchaeus nor the penitent woman who washes her feet with tears, wipes them with her hair and pours extravagant perfume on them. He is not defiled by these sinners, rather, he purifies them, forgives them and makes them whole. And here, this gentile Roman Centurion will not defile him either, rather his encounter with the man will confirm his faith and his love. Jesus sees genuine faith from the Centurion and he praises it. He sees genuine love coming out of the Centurion, and he validates it and fulfills with his healing, albeit in this case, his healing from a distance.
This brings us to another curious and amazing detail: "Say but the Word." This official makes a profound act of faith. "Lord, you do not need to pay my house a visit to cure my servant. Your Word should be enough. It works in my world–the world of the Roman army–the word of a person of authority accomplishes its intention with a simple and direct order. If authority works in my case, I have faith that it does work in your case too. Say but the Word and obedience should carry it through." These convictions carry so much faith in them–faith in the authority of Jesus' Word, faith in the order of things, faith in obedience of subordinates, and faith in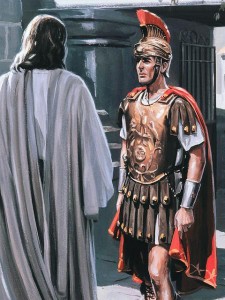 the yet inexplicable healing power of this man Jesus. Again it takes much "dying to self" and "embracing Jesus' world" for this Centurion to come forward and ask Jesus for a healing, and this not for himself, but for his slave.
We also appreciate how Jesus himself is transformed by this event. He must have realized how God's Word inserts itself into things, inculturates itself in ways that receivers and hearers can more easily make sense of the Word, find meaningful connections and thus are drawn to embrace them fully. So then Jesus must have realized, time would really come that more and more gentiles would see, would express their faith and make space for God's Word to be sown in their hearts and grow and bear fruit. Time will come when people need not become Jews in order to follow God and become disciples after the heart of God: "Amen I say to you, in no one in Israel have I found such a faith. I say to you, many will come from the east and from the west, and will recline with Abraham, Isaac and Jacob at the banquet of the Kingdom of heaven!" And we, friends are a fulfilment of that prophetic statement of Jesus!
We ask for this grace of humility, an ability to die to ourselves to make space for God's Word, unworthy though we are, we God's Word to enter into our lives and ask that God's presence, incarnate in us purify us and sanctify us. We ask for the grace of obedience, that the Word active from within us may fully accomplish its mission in us and through us. We ask that all these lead us to our final destiny which is to recline with all people of faith in an eternal banquet of love and communion with God. God Bless!
September 15, 2014 Leave a comment
« older posts
newer posts »