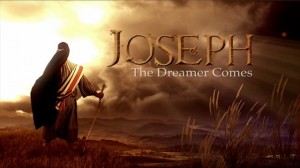 To Pray on and Ponder: Genesis 37, 3-4.12-13a.17b-28a; Matthew 21, 33-46
Id quod volo: To be able to look at our "soap opera" lives and from hindsight, sense God's redeeming work as he "writes straight in our crooked" life lines.
Our first reading from Genesis gives us the beginnings of the thickening plot in the"soap opera"-like story of Joseph the dreamer–the young and favourite son of Jacob who as we know caught the ire and jealousy of all his, well un-favored siblings so that they decide to kill him or abandon him to die in a dry cistern or as what ultimately happened, sell the boy to traders, effectively making him a slave. This text is somehow used as a foil to the Gospel assigned for today–the Parable of the Wicked Tenants, where tenants who are supposedly stewards of a vineyard simply rebel and refuse to give the share due to the vineyard owner and go the extent of abusing and killing emissaries sent by the owner, even the owner's very son.
If we follow the life of Joseph from start to finish, we see how sinfulness begins to infect the family's story.  The father of Joseph is of course Jacob, one of the twins of Isaac and Rebecca. Jacob was the deceitful twin, who manipulates his ailing father into thinking he was his older brother Esau, so he could steal the blessing meant for the first born. Of course Jacob is able to do this because his mother Rebecca colluded with him at the expense of her other son. Esau therefore vowed to chase Jacob and kill him. On his escape, life would have its way in twisting Jacob's fate. He fell in love with Rachel, Joseph's mother. But Laban, the father of the Rachel loved deceived Jacob, (giving the man a dose of his own medicine), and sent another daughter Leah on the night they slept in Jacob's tent. Thus Jacob was forced to marry Leah, and had to work seven more years to be able to take Rachel her beloved in the marriage he preferred. And so we come to Joseph.  And we begin to understand the family dynamics into which Joseph was born. As it turns out, only Joseph among Jacob's sons is the legitimate son of Rachel, Jacob's beloved. The rest are either sons of Leah or of slaves of the two wives of Jacob, hence the favouritism. Henceforth, after Joseph was sold, Rachel bore Jacob another son by the name of Benjamin.
As can be expected, the family with a favoured son develops a certain complexes, and the jealousy, envy and hatred can sometimes turn really bad that violence is inflicted on the favoured one. Come to think of it, the favouritism itself may also have engendered an earlier violence on the un-favoured ones so that the later violence is really some taste of sweet revenge for these sons.
Follow through the end of Joseph's story we see how God does write straight in our crooked, crooked, soap opera lives. And where we fail in faithful stewardship of the gifts entrusted to us, including birthright blessings and family, God rides with us through the murk of our lives to accompany us when the dark chapters come, and help us to draw some good even when the worst bring us to rock bottom. In the case of Joseph, his life as a slave gave him a dose of starvation, humiliation, treachery, betrayal, but ultimately, some high administrator in the Egyptian court took notice of his talent and appoints him to a high post. Joseph was in the right place when Egypt needed someone to protect their people when famine and drought set in.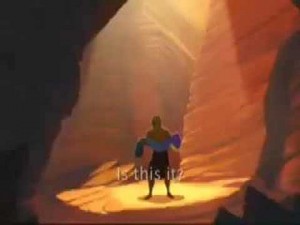 With Joseph at the helm, Egypt had plenty of food stocks at the time of famine, so that one day Joseph's brothers find themselves at the court of Joseph begging food for their family. Joseph of course recognized them and after some masquerade, pretending to give the brothers a hard time, demanding even that the brothers surrender Benjamin to him, Joseph finally breaks and introduces himself to the brothers, at which point Joseph also proclaims his interpretation of his own life story–God allowed everything to happen so he could be at the right place when the crisis of famine and drought happened. His betrayal became the way for his redeeming his family in the end, quite an uncanny foil for the fate of the Messiah himself.
An animated film on Joseph's life featured a song entitled "Better than I" which I thought captures how God was able to write straight in Joseph's crooked life.
Better than I
I thought I did what's right
I thought I had the answers
I thought I chose the surest road
But that road brought me here
So I put up a fight
And told you how to help me
Now just when I have given up
The truth is coming clear
Chorus 1:
You know better than I
You know the way
I've let go the need to know why
For You know better than I
If this has been a test
I cannot see the reason
But maybe knowing
I don't know is part of getting through
I tried to do what's best
But faith has made it easy
To see the best thing i can do
Is to put my trust in You.
Chorus 2
For, You know better than I
You know the way
I've let go the need to know why
For You know better than I
Coda:
I saw one cloud and thought it was a sky
I saw a bird and thought that I could follow
But it was You who taught that bird to fly
If i let You reach me
Will You teach me.
(Repeat Chorus )
For, You know better than I
You know the way
I've let go the need to know why
I'll take what answers you supply
You know better than I .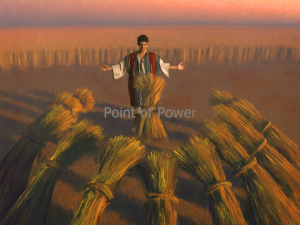 In a sense God's providence and mercy shines through in this Joseph story. We cannot say it is completely the same tone that we receive the Gospel Parable of the Unfaithful Stewards. For the parable does end with a warning tone: "If you persist in your rebellion and infidelity, your stewardship will be suspended and the vineyard entrusted to you will be given to someone else more disposed." We therefore need to seriously ask ourselves especially in these remaining of Lent:  Looking at my life thus far, how much and where do I find this pattern of "God writing straight in my crooked lines?" Do I find myself receiving this with penitence, gratitude and a resolve to amend my crooked ways?  What have been the plot lines of sin in my family history? How do I in my own life now perpetuate this plot lines of sin? How is God inviting me and other members in my family to act in favour of healing and renewal in my family? What sort of forgiveness am I called to live for this healing and renewal to happen? God bless!
March 21, 2014 Leave a comment
« older posts
newer posts »