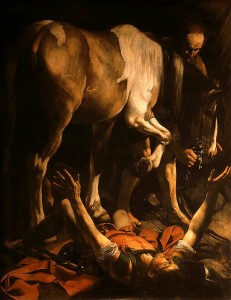 To Pray on and Ponder:  Acts 22,3-16 or Acts 9, 1-22
Id quod volo: That God may give us light to see and notice how love constantly invites us to conversion and transcendence–broadening our visions, deepening our capacity to give ourselves in self-sacrifice and strengthening our capacity to make responses way beyond our usual comfort zones the better to embrace God's dream for God's people. 
This year, the 25th of January, the day normal designated as Memorial of the Conversion of St. Paul, this day, falls on a Sunday. Therefore the liturgy prescribed is for the Third Sunday of Ordinary Time. As you know any Sunday Eucharistic liturgy takes precedence over memorials. Only solemnities can break the regular cycle of liturgical seasons. May I however invite you to still reflect on the Conversion of St. Paul which is the memorial that has been sidelined this year.
The late Canadian Jesuit philosopher and theologian Bernard Lonergan, S.J. taught us much about the human experience of conversion. He says conversion is grounded on a person's commitment to look at his or her experience and really seek out the truth in the realities that one experiences as well as in the self that goes through such an experience of truth-seeking and truth-telling. This level of conversion has to do with intellectual conversion. Of course one must remain attentive that his or her affective faculties help one to really engage reality and embrace it. This is because a person's psychoemotional states and capacities can serve to delude us, fill us with prejudice or biases which may distort our perception and interpretation of realities. hence affective conversion, even psychic conversion is needed so we may truly engage reality with genuine attention and more or less accurate perception. And Intellectual conversion also includes our capacity to understand reality and draw meaning from those parts of reality that we experience. On this level the person is challenged to be intelligent in his or her inquiry into things , at times questioning, at times probing, all the time, seriously reflecting on the reality one engages from many different angles and perspectives, trying one's best to get a glimpse of the truth of whatever reality one is engaging. Intellectual conversion nurtured by constant attentiveness and intelligent inquiry bears helps one face the challenge of a deeper conversion–moral conversion. where we are challenged to exercise our freedom and make reasonable judgments from all the data we have drawn from our attentive and intelligent engagement with things. Reasonable judgment of things help us make good decisions and undertake responsible actions which not only enrich the world and people around us, but also make us grow as free and loving persons. Intellectual conversion helps us to really look at things with attention and a critical mind, so that when we are faced with choices on how to respond to the things that we see, our choices are realistic and genuinely responsive to the needs that we apprehend. But then Fr. Lonergan explains that  while our commitment to these first four precepts of "being attentive," "being intelligent," "being reasonable," and "being responsible" are important foundations to transcendence, what really moves us to transcend our narrow parrochial concerns is the love that draws us out of ourselves and towards God and others.When we find ourselves caught up in the dynamic of love, such love animates us and transforms what we are able to see and perceive, helps us to penetrate and understand interiorly the very heart of things and helps us to stand by our commitments with fidelity and generosity. When I am caught up with a greater love, say love for a partner, or love for a community entrusted to my care in ministry, there a moments when I don't even notice I go out of my way to offer my gifts to serving and pleasing the partner or the community. I just give and give because of the love that animates me. I can think of Pope Francis looking tired after the Sri Lanka leg of his apostolic pilgrimage and yet suddenly looking so animated and full of energy once he makes contact with the Filipino crowds who give him a most loving welcome and show much desire to receive him.
On the other hand, I can also think of the people of Tacloban who gather to receive their shepherd still grieving and struggling hard to recover from the wounds inflicted by Typhoon Yolanda. But with the Holy Father's show of deep sensitivity and compassion, beyond language difference, despite the current typhoon, the solidarity experienced in that grace-filled mass in Tacloban transformed into a communion of sheep reunited with their Shepherd and so filled with hope for new life and renewed will to carry on and heal and recover.
In many ways, what Lonergan describes as conversion can be traced and verified in the experience of the great apostle to the gentiles, St. Paul. Saul of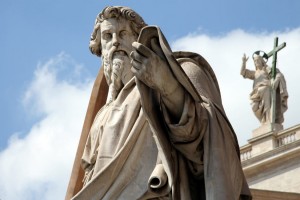 Tarsus was a zealous Jew, a pharisee whose passionate love for the law made him see those who adhere to the Jesus way as misled, even perhaps a threat to Jewish cult and practice. Thus he volunteered to pursue those who follow the Way, so that he may be of help in bringing these threats to court and so eliminate these believers in what he saw as the false way. To him his efforts were a sincere living out of his Jewish faith and nothing could be far more pleasing to God than to stamp out this Jesus movement before it gets too big.
And so the Risen Lord decides to pay Saul a visit–a quite dramatic encounter on the Road to Damascus. From his own testimony, Paul said that suddenly a bright light shone before him which toppled him from his horse, and then he heard a voice audible only to himself and not to others: "Saul, Saul, why are you persecuting me?" Saul asked "who are you, sir?" and the reply came: "I am Jesus, the one you are persecuting. Now get up and go into the city and you will be told what you must do."
This initial religious encounter would set Saul off into a lifetime journey of many conversions. In this event alone, the Spirit of Light already begins to labour to transform Saul's way of seeing. The Light blinds Saul temporarily, loosening the grip of his own former biases so that on the third day, when his sight is restored, what he sees will be a little closer to what the Lord of the Light wants him to see.
The same Lord revealed to Ananias what Saul was to become–"this man is a chosen instrument of mine to carry my name before Gentiles, kings and the children of Israel. and I will show him what he will have to suffer for my name."  From this short line the author of the Acts of the Apostles makes us privy to the life Saul was to look forward to. His mission would be far broader than that of the Jewish Pharisee. Saul was to go out to the whole world to proclaim the man whose followers he used to pursue and persecute.
From his initial intellectual conversion, Saul, now renamed Paul, would slowly find his way to the bosom of the Church he once made to suffer. He had to take steps so those believers in the Way, by then renamed as Christians, can recover their trust in him and embrace him as one of the apostles, only that his mission was focused on people who stood outside of the Jewish faith. Did he really suffer? Certainly, Paul had to endure the doubts and fickleness of some of the original believers. For it is not often that we see former persecutors becoming passionate promoters in a short span of time. And then Paul had to face a community which thought God willed for Christians to be Jews first, and then become Christians. Through the efforts of Paul and Barnabbas, eventually the Council of Jerusalem recognized that it could happen that a gentile be converted and ask to be baptized as a Christian and that such a person need not convert to the Jewish faith before he gets baptized as a Christian.
Paul's theological and pastoral writings speak much of his characteristic love for the (Jewish) law, but such a devotion did not lead him to support the Judaizers in imposing the Jewish faith on would-be Gentile Christians. We are saved by grace that comes from the Spirit of God in whom we have been baptized and not by mere fidelity to the Law. Paul also had to use his gifts in discernment, leadership and administration so that Christians who see in themselves many varied gifts may not be misled to selfish autonomous works but may learn to see their gifts in complement to and collaboration with others who carry other gifts. Hence the Church Saul once persecuted and wished to destroy, Paul now loved dearly and helped to build up. It was at the core of his original converting vision that this Church made up the Body of Christ and he had to exercise ministry so that the many different parts of this one body may really work together to build up the whole.
For sure Paul went through many other crises characteristic of those active in the apostolate. Cardinal Martini suggests that Paul had to endure crises in friendships, for instance with the other apostolic leader–Peter who as an avid Jew would have shown vacillation in whether to support the Judaizers or confirm the new non-Jewish converts without forcing them to become Jews. And Paul would have rebuked Peter when he did vacillate. Furthermore, Cardinal Martini talks about some falling out with Barnabbas, the apostle who helped to initially integrate Paul to the apostolic body. The conflict may have been caused by Paul's gentle approach to the young disciple John Mark whose immature ways may have affected their ministry. Barnabbas may have preferred Paul to be clearer and firmer with his young ward. And then the many travails of missionary work–shipwrecks, hunger, poverty, resistance, false accusations, arrest and imprisonment. Finally, Paul speaks of some "thorn in the flesh," a difficulty that may be a root weakness in his personality, something which blocks his fuller commitment to  Christ, yet ironically, says Paul, makes him always humble before Christ, seeing himself as a vulnerable earthen vessel that holds an infinitely greater treasure such as the Christ.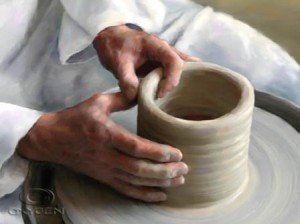 Paul's journey as a believer would have gone through many conversions of the mind, the heart and the will so that in the end, he can proudly proclaim, "I have run the race, fought a good fight and am now ready to claim my prize," so that on that latter point in his life, he knew he was prepared to die, yet he was really also content to continue living and serving the Lord. What death did Paul suffer?–he was said to have been privileged to die the more compassionate way because he was a Roman Citizen. He died by decapitation. He was beheaded–pain was minimal because death was swift, unlike Peter's execution by crucifixion, and inverted at that, slow painful, excruciating death. But through it all, it was Paul's encounter with so great a love as the Risen Lord's that fired him. It was this love that gave his vision to things the breadth of horizon that only the mystery of God's plan held. It was love that made Paul capable of loving even amidst suffering and pain. It was love that gave him a distinct spirit of generosity and zeal that stretched him beyond his previous limits so that he may proclaim the Word of God, really to the ends of the earth.
And so we ask ourselves in reflection:  Looking back at your life thus far, how has this experience of deep love called you to transformation?  How has love stirred you to broaden your dreams, deepen your loves, bring your commitment a mile longer?  We also ask that the Lord accompany us through this life-long conversion. We pray that God take away whatever scales block our spiritual vision so we may see the lofty dreams of God for our lives, so that locked in God's dreams we may receive God's love and offer our lives completely to the spreading of that love to others. God Bless!
January 26, 2015 Leave a comment
« older posts
newer posts »