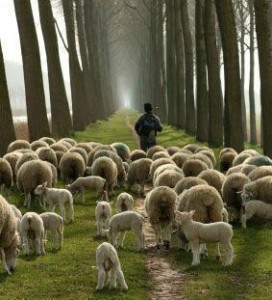 To Pray on and Ponder:  2 Samuel 5, 1-10;  Psalm 89, 20-26; Mark 3, 22-30
Praying early this morning on this day when I celebrate life on my birthday made me see images of myself reaching the peak of a mountain climb, and then gradually starting my descent. It's probably because I turn fifty-one today and within me, a part of me felt I was stepping past prime and am now beginning my descent. And so there was this voice that immediately said, "Oh my, I'm past my prime, and have begun my descent, I feel I have not even come close to a distinct apostolic fruit or accomplishment that can count as a future legacy. (You see that part of me which embraces Enneagram 3 high value for achievement can think thoughts such as these–achievement, legacy, image, etc.)  And yet another voice, deeper, more stable and more profound, was whispering to me, "No worries, we're getting there, [and as the Psalm response for this day goes, "my faithfulness and my mercy shall be with (you)."]

And then I recalled one of Fr. Johnny Go's most haunting songs, "Gather me" (Music by Ms. Ginny Pantig)
Gather Me
Gather me; every scattered sheep in me.
I'd rather be waiting here for Your voice.
I've seen the life outdoors,
I think it's time to make a choice.
There's no other course – only Yours.
Shelter me; every shattered self in me.
Better be waiting here for Your touch.
I've been out there in the rain,
I've hurt myself far too much.
Come and ease my pain again.
Such a weary world
All its ways gone wild
Save this child from the storm
I've been tossed, I've been lost, I've been broken
All my wounded days
All the bitter tears
I have shed for all these years
But You were there all my life
Gather me, shelter me
Safe in Your arms
So please gather me;
the scattered laughter in me
Only You can make me whole.
Come and ease my battered soul.
Shepherd me -
Come and lead me home to You.
This image of gathering into wholeness, this movement towards coherence and unity and integrity is indeed a movement that is a sign of God. AS the Gospel indicates, division is the mark of the devil. God's pedagogy is that of separating (a purifying movement, I believe), and then gathering into a greater wholeness; separating, then gathering. This we saw in the symbolisms manifested in the Creation stories of Genesis. But we also saw this in God's way of dealing with Israel his people. God's way is always to gather them, forge unity among them by calling them to a communal identity and covenant. And when God's call to communion does not seem to pull through because of human sin and division, God activates some "plan b" and calls forth a remnant of the people for whom God's care will continue to flow visibly until his only Son becomes in his very human person, the very incarnate form of wholeness and integrity that remains a promise for each of us and all of us taken together.
We also saw how sin causes alienation and puts a wedge on people's good relations. Just recall how in Genesis the character Adam was just happily ecstatic when he first laid eyes on Eve, saying: "You are bone of my bone, flesh of my flesh, I shall call you Eve." Yet in the face of sin and judgment, Adam is alienated from himself (he noticed he was naked and ashamed of what he saw, he hid behind the bushes!), and then alienated from the woman she loved. (It was the woman you gave me, she caused me to sin). And of course Eve for her part put the blame on the serpent, so now we also see the human characters alienated from the rest of the created world. Fast forward a few chapters more and you'd see the division worsen into murder (Cain vs. Abel) and then strife among whole tribes and finally a somewhat definitive break amongst and between peoples and their God (Consider the image of the Tower of Babel where people keep using their powers to reach God and be like God but God confounds them and puts different languages into their mouths so that soon enough the people fight among themselves and are scattered.
In Jesus, we have the concrete face of the wholeness that God means for all of us, and much more besides. In Jesus we also find the way towards that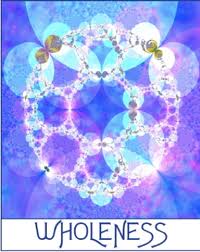 wholeness. For when God makes a promise in Isaiah 55, that his Word will not return until it has accomplished, that prophecy finds fulfillment in Jesus' act of self-sacrifice and love when he offered his life on the cross. When Jesus' uttered the words, "Into your hands I commend my Spirit," that very Spirit of love poured out on the cross now becomes the "power and wisdom" that makes us whole as individuals and as a loving communion struggling through new life in Christ. The image of Pentecost reverses the most severe divisions that we've seen in Babel. For now, even the very uniqueness of individuals and the multiplicity of gifts and talents, need not cause division, but in fact bear fruit in unity-in-diversity. The Body of Christ will be the symbol of primal communion that God desires for all of us and we receive abundant life and love when we feel connected with the Vine which is Christ.
Receiving good wishes and greetings from hundreds, some of you I haven't even met face to face, has been to me a sign of this movement of gathering. First your kind expressions of gratitude for the guidance that these reflections provide, affirm that the grace of the priesthood is alive in me and is bearing fruit somehow. Reflecting on God's Word and sharing these with friends has been part of my life since early on when I was still studying philosophy. Second, the many kind words of affirmation and spontaneous offer of prayers for myself and my ministry also leads me to hear God telling me, "O, as I told you Vic, I have blessed you with good things and plenty, and surrounded your table with friends . . . ."  I guess for myself, celibate life has made me get in touch with solitude initially in the form of loneliness or disconnection. And worse, my work-orientedness also make me see in personal relationships a "give-and-take" dynamics which can be functional and cold: "you do this for me, and I do this for you." Loneliness can set in when I begin to feel, I am doing things for people and doing so can be such a thankless job." When after a day's examen I try to console myself and say, "well Vic, you're called to love unconditionally, right, "thankless" is just another word for that.  Didn't you pray this before? Dearest Lord, teach me to be generous, teach me to serve you as I should, to give and not to count the cost, to find and not to heed the wounds, to toil and not to seek for rest, to labour and ask not for reward, save that of knowing, that I do your most holy will." And so a lavish outpouring of thanks from people from all over, many of whom I do not know personally can be heartwarming. It's not a thankless life at all. People appreciate deeply though it's not always expressed. So thank you all.
God's promise and work of gathering us into wholeness and communion can sometimes be derailed in us when we hear inner voices that say, " you see, people just tend to like you and appreciate you when you can give something to them"; or another voice that goes, "this business of unconditional love and service is really a joke. you know you need mutuality, you know you need appreciation. Don't you just feel unloved and unchosen? Don't you get tired just giving, and giving" The temptation of thinking oneself unloved and then a little later, unloveable can be a devastating thought and temptation and this can never come from the good spirit, nor from God himself. It is in fact the complete opposite that God's inspiration brings: "I have known you before you were born. And I love  you, and you are mine." When we live this latter thought and allow it to shape the way we see ourselves, our relationships and our world, it is light and love that begins to reign and create us. And the goodwill that comes out of our hearts also begin to warm our friendships and make our bonds more intimate and constant. And so the gathering of community begins to happen as well.
We ask that we implore the Lord to be the Shepherd who will gather us into wholeness as persons and as communities. The Spirit of communion will remain us until Christ is able to bring us all back as to the Father as one Family. Thank you again for the greetings and prayers. Please continue to pray for this sinner, loved and called into wholeness by God, and sent Jesus to be a companion-in-mission. God Bless!
January 28, 2014 Leave a comment
« older posts
newer posts »