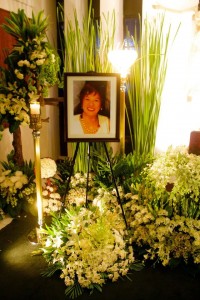 (The following is the homily shared in the second wake mass for Minda Evalle, friend and associate of the Center for Ignatian Spirituality)
Seasons of Love
Five hundred twenty five thousand six hundred minutes.
Five hundred twenty five thousand moments, so dear
Five hundred twenty five thousand six hundred minutes
How do you measure, measure a year?
In daylights, in sunsets. 
In midnights, in cups of coffee
In inches, in miles, in laughter, in strife
In five hundred twenty five thousand six hundred minutes
How do you measure, a year in the life?
How about love? 
How about love?
How about love? 
Measure in love
Seasons of love (love) 
Seasons of love (love)
Five hundred twenty five thousand six hundred minutes
Five hundred twenty five thousand journeys to plan
Five hundred twenty five thousand six hundred minutes
How do you measure the life of a woman or a man?
In truths that she learned
Or in times that he cried
In bridges he burned or the way that she died
It's time now, to sing out.
 Though the story never ends
Let's celebrate
, Remember a year in the life of friends
Remember the love
 (Oh, you got to, you got to remember the love)
Remember the love
 (You know that love is a gift from up above)
Remember the love
 (Share love, give love, spread love)
Measure in love 
(Measure, measure your life in love) Seasons of love
Seasons of love
 (Measure your life, measure your life in love).
I thought the wake mass Gospel text we chose was just a propos for our dear friend Minda—the wise virgin. In many wake masses, that beautiful but haunting song from the Broadway Musical "Rent" always comes back to me. You may probably recognize it by its title: "Seasons of Love." You see, the play revolves around the stories of a theater group which had fallen into bad times and was struggling to keep themselves together for a production. They were quarelling all over, some were fighting for love,  Some were scrounging around for money. Until one day one of the friends fell ill, the happiest actually, and succumbed to HIV and AIDS.
"Seasons of Love" was the finale song of the play and the group was all in tears singing the song, no doubt dedicated to their fallen friend. How do you measure a year in a life? How do we assign a value to the life of a friend? We can probably use some of the questions to ask what measure can we use for Minda—our wise virgin.
Do we measure life's value by daylights and midnights spent, should we count the numbers in minutes and seconds—525,600 minutes in the year. For what were these minutes spent—drinking coffee at Larry's bar, in so many journeys planned with friends, in truths that Minda learned or the way she cried or died. In miles, in laughter, in strife.
The song of course ultimately suggests the good measure to use is love.
When I recall Minda, our wise virgin, it is three L's that I recall:
Minda was a woman of leisure, and by this I do not mean anything bad. I mean to say that Minda is a woman who knew self-care. She knew how to rest and enjoy life. She knew how to spend time with friends in travel or food trips or slow coffees and conversations. She knew how to feed her soul and in the process deepen as well in her ability to help others. The woman who knows how to pause and rest is one who knows how to be quiet and contemplative. She knew how to see things with the gentle eyes of love. One author describes contemplation as a long, loving look. And I think Minda loved doing that with people, that's why she is very empathetic and compassionate. She would sit with people and share conversations with them that may be light in the feeling, but very deep in the themes that are shared.
Secondly, Minda is a woman of boisterous laughter. Her nephew was right to call her one crazy woman. She knew how to laugh. She knew how to tell stories of funny experiences. She knew how not to take life too seriously. Oh we enjoyed so many stories about friends who mistakenly put on two pairs of bras (please forgive me if you are here—bato-bato sa langit!) or another friend who was frantically looking for her house keys until the guard noticed a key chain dangling from the side of her hand bag. Or that other story of a woman who was getting frustrated knocking for so long at the door, until she realized, she was knocking at her own house. I guess Minda loved to tell these stories so she can also laugh at herself as she experienced her own aging.
Once a group of us retreat guides had a delayed flight in Naga and so their group of senior associates couldn't find any seat except in that corner where there was no one seated. The three lolas sat there exhausted but all burst into laughter when they realized the big sign behind them: breastfeeding station.
Minda knew how to laugh and I think this gift was one of her points of access to wisdom. Life was too serious to take too seriously. And her laughter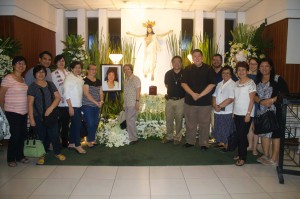 allowed her distance from life so she can think through life with a certain ease and wisdom. And this is not to say, she did not feel fear or pain. I know she did but she also knew how to carry her fear and pain with lightness and graciousness. One of her last messages to me was to ask for my prayers as she was feeling some fear as she faced her surgery. I reminded her of her inner strength and she wrote, "ha-ha, oo nga, father Vic. thanks."
Finally, Minda, our wise virgin knew how to love. And I have a sense that many if not all of us have been touched one way or another by this love. Minda gave attentive care to people she talked to. She was generous in her giving. I think even when she could not come to our associates gathering, all of us felt her presence when the big lechon came—iyon daw ang kanyang contribution. She was always the gentle, light presence that always had a smile to give, an encouragement to share, and many initiatives to give joy to poor people in her midst. I know she's been preparing for her meetup with her Creator because in her last years, she was giving themed retreats on the topics of aging, diminishment—but mind you, she entitled these retreats—Praying our Golden Years—nothing dark or morbid. Not like us Jesuits who would call our infirmaries—the pre-departure lounge. And so as the "Seasons of Love" song ends, we ask, how might we measure the life of our friend, Minda? Remember the love, measure in love.
Thank you wise virgin: you have taught us how leisure, laughter and love are good gifts from our good God, and we keep all these things in our hearts as we bid you farewell. Now for a prayer of forgiveness.
March 14, 2015 Leave a comment
« older posts
newer posts »