To Pray on and Ponder:  Acts 12, 1-11; 2 Timothy 4, 6-8.17-18;  Matthew 16, 13-19
Id quod volo: A heartfelt appreciation for the faith I live and embrace as a lived and living Tradition that allows me to draw from the vast riches of other people's spirituality–genuine faith proclaimed and lived, at times died for, and now calling me to live mine, responsibly and intentionally, faithfully and zealously so others after me may also receive the faith with much authenticity and life.
Why am I here presiding at mass with you in this lovely family camp? I stumble for answers in many ways. The most simple answer the comes to mind first is that this is an act of obedience to my younger sister Jocelyn who has been my unofficial agent in connecting me with Christian communities here in Canada every time I get a chance to visit. The next answer is I am able to celebrate the Eucharist with you because I received permission from your Archdiocese, and the same permission allows me to minister to you as I had been so missioned in April 1997 when the good old Jaime Cardinal Sin, then Archbishop of Manila (he has since gone to heaven!) laid his hands on me and placed holy oils on my hands to consecrate me a priest. If that were not enough, more than a hundred and twenty priests, mostly Jesuits walked in a long queue before me and my eight ordination batch mates to lay their hands on us as if to add in their bit of priestly holiness with the Cardinal's priesthood being "handed down" to us–in a sort of river flow of consecration grace, priest-to-priest. After that ritual, people would queue before us to receive as well "fresh" blessing from our hands. Since then till now, people write, text or call to ask for our prayers and blessings as though we have become this gateway of God's good providence despite our own lacks and sinfulness.
And now, this river flow of grace and blessing continues and with a special depth of meaning as we celebrate in this Sunday's mass, the Solemn Feast of Sts. Peter and Paul. In Rome, Pope Francis will install twenty-seven new Archbishops, two of them for two Philippine Archdioceses–Zamboanga (Bp. Romulo dela Cruz) and Nueva Segovia (Mons. Marlo Peralta). Popes have consecrated cardinals in consistories and installed archbishops in Solemnities of Peter and Paul through the years, possibly centuries. I reflect with awe on the continuing line of tradition that binds me with Cardinal Sin and he with the priest who baptized and confirmed him, the bishop who ordained him, the Popes who consecrated him and created a Cardinal in him, and all these presiding prelates connected themselves way up to St. Peter, the Rock on whom Christ built his Church. And I'd like to think as well that the Ignatian tradition I live and follow draws very much from the spirit of St. Paul, the one exemplary missionary apostle of the Word whose word and apostolic witness formed much of the Ignatian spirit.
When we celebrate mass today, I invite you to join me in thinking of ourselves and our families and church communities as tiny branches of that one big vine that is Christ. Think of ourselves as small living stones that build on each other to form the living Temple of Christ's Spirit whose cornerstone is Christ himself and on whom Peter the Rock builds our foundation.
Everytime we gather to reflect on God's Word, every time we gather to break bread, every time we consciously nurture our baptismal gifts so every husband, wife and child grows robust in the faith that he or she lives, we nourish the vine and make it grow to reach others. How else can we learn to love and serve and give praise. Everytime we help others who are lost find their way, every time we forgive those who wrong us and are forgiven for our own wrongs, every time we help each other lick a vice and form good virtue and character, we help strengthen Christ's temple. Everytime we make time to study God's Word and share it among ourselves and our families in ways in which God's Word becomes the foundation of our day to day lives, we add a little more firmness and stability in the building of God's temple, the better to build on it as more generations come and go.
Not only does Sacred Tradition build the Body on Christ for us, with us, in us, we ourselves become receivers and transmitters of that tradition as Christ's Spirit fills our hearts and directs our lives. Sacred Tradition transmits the faith to others through us as well, more or less in the measure we allow God to use us in the enterprise, even despite and sometimes through our sinful selves. We ask that the Spirit render us more and more transparent to Christ's light and more and more pliable as instruments in God's hands so that it is always God's Word that we embrace and pass on to others and not our own selfish inclinations.
An old poem of mine communicates the depth of Tradition that passes from human hand to human hand. One fateful day when we celebrated the birthday of our cook in our small theologians community, our cook at one moment talked about the news she heard about Jesuits killed in a university in El Salvador, and of course, the detail that was most moving for her–that killed with the Jesuits was their cook and her daughter. Aling Mila our cook, so innocently said, "Basta ako brothers, kung bigyan ako ng pagkakataon, puwede rin akong mag-alay ng buhay kasama ng mga Heswita." (As for me, brothers, given the chance, I'd also consider it an honour to offer my life alongside you Jesuits). All of us at table fell silent, humbled, perhaps even embarrassed by the depth of faith and generosity of our cook, Aling Mila. I thought what she said at table that evening was the greatest nourishment I had received that year to grow the priest-in-making in me. Let me share that most cherished moment with you.
Paglikha ng mga Pari
Fr. Victor R. Baltazar, S.J.
paghanda at paglinang ng lupa
pag-araro, paglagay ng abono
pagsaboy ng binhi, pagtanim ng punla,
pagsisige sa pagdilig
o paglagay ng patubig,
pag-antabay sa pagtubo
ng sanga-sangang palay at damo,
paghihintay…
… sa pag-uhay
… sa paglitaw ng palay
… sa ginintuang bunga
ng kaytagal na pag-aalaga,
at 'di pa tapos…
gagapasin, gigiikin, hihimayin,
pupulutin, patutuyuin, paaarawan,
pahahanginan,
babalatan at babalutin
sa sakong sa trak kakamadahin,
at 'di pa tapos…
tatawaran at babaratin
(ng komprador na medyo sakim!)
upang itawid sa bayan-bayan
at ipamahagi sa mga pamilihan…
doon kinikilo, binibili mong turing suki
pinipilian pa kung minsan ng mga batong mumunti
isasaing kapagkadaka para sa pananghali…
kaya nga ang binhing-punlang-sangang-uhay
ang inabonohan, dinamuhan, diniligan…
ginapas at giniik; binalatan at binalutan
itinawid sa mga pamilihan;
tinawaran at tinubuan
ngayo'y iyong inihahain sa hapag,
kanin na kakanin
ng mga binatang papariin.
sa isang banda roon,
sumingit ang kamay Mo sa paglikha.
A rough translation of the Filipino original is given here for our English readers.
Making Priests
(in honor of Mila Lineses, our cook)
toiling to till the land,
plowing it, enriching it,
sowing seeds or transplanting seedling,
watering the land in earnest,
waiting for sprouts;
for shooting stems of rice and grass.,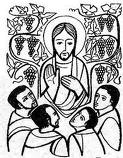 and then the long waiting…
… for stalk,
… for grain,
… for some golden chain
of grain that's fruit of care;
and the journey's not ended…
there'll be threshing, and milling, and picking,
gathering, sun-drying, wind-sifting,
and then chaffing, and sacking,
and loading in trucks-a-waiting;
and the journey's not ended…
there'll be bargaining, cut-pricing
(with traders so stingy for margins!)
until rice reaches the towns
and poured-priced into market vats and counters.
there they'll be measured and retailed from
the dealer of your choice.
you even pick out small stones before finally
boiling the rice for our meal.
thus, the seed-sprout-stem-stalk-grain
the fertilized, weeded, watered,
threshed and milled, chaffed and sacked,
and traded, at time unjustly valuated,
is now served steaming before us, rice-in-bowl,
a graced-good meal for these priests-in-the-making.
somewhere along the way,
the chain of creation
found your hands at play.
Shared creaturehood binds us into a communion. But beyond this we also grow into a shared religious experience–of becoming part of Christ's Body, of receiving and living a profound Christian faith and priesthood, supported for generations by the blood of martyrs and the chants of saints and sinners, taught by ordinary catechists and countless pastors, and fed on the words and witness of so many believers in family and friends, my mother, in the first place whose evening rosaries had kept me close to Mary's heart.
As we celebrate St. Peter and Paul, pillars of our Church, I celebrate and remember all the other tiny pieces of stone and mortar that built on Peter's Rock and Christ's cornerstone so that the Temple of God can expand enough to reach me–the many catechists and parish priests, religion teachers and seminarians, friends and family who helped me pray and study and live the faith, retreat guides, formators and spiritual directors as well. I pray that the profound gratitude I sense in my heart may translate into a deep sense of responsibility to nourish my faith, because I too am called to transmit the tradition to others–in word and witness of life. God Bless!
June 28, 2014 Leave a comment
« older posts
newer posts »