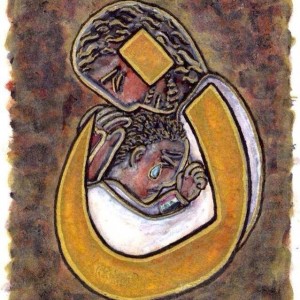 To Pray on and Ponder: Isaiah 22, 19-23; Romans 11, 33-36; Matthew 16, 13-20
Id quod volo (That which I desire most):  That the Lord may so dwell in my heart that I grow in my intimate knowledge of him, and his thoughts become my thoughts, his loves, my loves, his dreams, my own as well that the breadth and depth and height of all that God loves become the measure of my own values and choices in life.
Our Sunday readings all pertain to people who are entrusted with keys, i.e., people who are chosen to lead others and therefore carry the expectation of knowing who God is and what God desires. For God is the real leader of his people. From the various descriptions of the first, second and third readings, the key to the ministry of leadership has much to do with an intimate knowledge of the heart of God. I recall that at the heart of the Spiritual Exercises, especially of the more advanced exercises meant for those who are discerning God's will for their lives, the core grace that we beg for is for an intimate knowledge of Jesus, so that seeing him more clearly, we may love him more ardently and follow him more closely. For ministry leaders, an interior knowledge of Jesus Christ, the True Shepherd of God's people is a core gift to ask, because it is by intimate knowledge that we see the kind of person Jesus is, the values he upholds and cherishes, his ways with people, his single-minded focus on gathering everyone back to his Father's embrace. It is by this passionate love of Jesus that we are able to surrender all to God's project and dream.
While in the first reading, the key seems to have much more to do with externals: clothing one with the robe and sash of authority, and posting one in fixed spot which is also a place of honour for his family, we have to remember too that it is a prophet of God, in the person of Isaiah who performs these rituals of transfer of power or authority.  A real prophet will not proclaim nor perform anything if not according to the Word of God that he had previously received. Certainly, Eliakim, whom Isaiah anoints here, is a leader whom God knows and who knows God.
In our second reading, St. Paul argues for how God's seemingly mysterious plan to have included the Gentiles in the plan of salvation originally focused but rejected by the Jews may really be part of God's wisdom. This is in order to woo, by jealousy, his own people, the Jews, into renewed covenant of God. And then Paul waxes poetic about true knowledge of God:
"Oh the depths of the riches and wisdom and knowledge of God! How inscrutable are his judgments and how unsearchable his ways! For who has known the mind of the Lord or who has been his counsellor? Or who has given the Lord anything that he may be repaid? For from him and through him, and for him are all things. To him be glory forever. Amen."
In our Sunday Gospel text we are brought back to what to my mind is Jesus' midterm examination of his disciples. He and his disciples are midway through the journey to Jerusalem, and in one of their journey's breaks, he pauses to ask a confirming question to his disciples. They had been after all together for quite some time now and they had all been witnesses to the many wonderful things that God has accomplished to show his love for his people through the signs and wonders that Jesus had performed. So now two important midterm questions are in order: First Jesus asks his disciples, "Who do people say that the Son of Man is? To this first question, it seems that the disciples could easily respond with what they have been hearing–"some say you are John the Baptist, others, Eijah, still others say you are Jeremiah or one of the prophets." But then Jesus poses a second and more engaging question: "And you, who do YOU say that I AM?" Somehow the impact of the midterm exam changes in tone and intent. I imagine the disciples really thinking and reflecting hard. Their question deals with interior knowledge and commitment. What they say in their response would immediately reflect back on how they have been behaving thus far in community and how much they have received from Jesus' teachings and examples. I myself would have cringed in giving an answer too quickly.
Then Father, now Cardinal Chito Tagle, once gave us Jesuit scholastics, our annual retreat. At that juncture when he was initiating us into the Second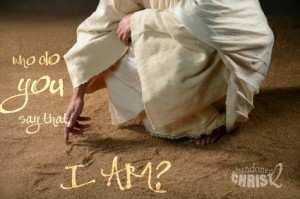 Week of the Exercises, he gave us prayer points focused on "Who do you say that I am?"  this second and more confirming question. And he said this kind of question is a classic question and like many classic questions, we never give a response which exhausts all possible meanings within the scope of the question. In the first place, the YOU, of the question, which of course pertains to myself who is struggling to respond to it, has an inexhaustible wealth of meaning. I can never reach a completeness which will not still change. I know I would have answered the question quite differently back when I was still in College and was aiming to graduate with decent credentials so I can pursue a career in agribusiness and earn my first million in due time. I would have responded differently too when I was in the thick of political seminars trying my best to contribute to social change, by raising consciousness among farmers and cooperative workers and building organized groups which would carry their agenda into the fora of good elections and advocacy in the legislature. And of course, I answer that question with greater substance now that I am a Jesuit priest who has embraced it as my personal mission to introduce Jesus to others and help others engage in intimate relationship with him.
But then Fr. Chito Tagle did not stop there as of yet. He said the other point where the question expands even more is with that latter part that says "I AM." Even if we are gifted with a moment of consolation, when we feel that we have grasped some part of Jesus' being and have somehow touched him where he communicates his love deeply to us, we still cannot rest and say, "yes I know him." Even for some of us who have been in constant friendship with Jesus and have developed quite a deep familiarity with him and his values and his ways by sheer constancy and fidelity in conversation and exchange, Jesus who is "I AM" will continue to surprise us. If he stops surprising us, then we are probably relating with an idol and not with the person. For God's ways will continue to be far removed from our ways. And so intimate knowledge will just keep on deepening as we continue engaging Jesus in relationship. It will continue to become that constantly moving target, and just like one philosopher of epistemology said of knowing as apprehending the Truth, it remains always an "almost already there" enterprise.
Peter, the would be leader of the disciples risked an answer, "You are the Christ, the Son of the Living God." Not only did Peter ascribe to Jesus the identity of the "Messiah," an age-old redeemer, which is in the deepest imagination of every member of the Chosen People, but also as "Son of the Living God" which makes of this Messiah, a Divine figure, a person who is equal to God. Jesus immediately takes notice that such revelation may not have been a fruit only of human speculation but a revelation that originates directly from the Father. And so he blesses Peter and vests upon him the ministry of leadership. But even with these signs of deep interior knowledge of Jesus in the heart of Peter, we know that much, much more needed purification in the disciple. Jesus had to qualify the kind of Messiah that he is. And this qualification of suffering and death on the cross was something that Peter could not accept. And it is here where he falls quite as fast as he proclaimed his belief in Jesus' messianic role. Pretty much like the Peter who walked on water for a moment, but instantly lost his focus on Jesus when the strong winds and big waves frightened him and made him sink.
And so we, who are certainly lesser mortals than Peter and the disciples, we ask Jesus for the grace of a genuine intimate knowledge of him the better that we might love him and follow him. We ask that in those moments when we catch ourselves risking an answer to Jesus' confirming question, that we may be acutely aware where we are coming from when we give that answer. And that we may be clear as well to whom we are giving our response. For while Jesus so desires to pursue us and engage in intimate relationship with him, we also have to propensity to create false images of God that conveniently suits our needs and desires. In responding genuinely to this confirming question, the YOU and the I AM must be genuinely in dialogue, and the I AM must be the real focus and transforming partner in the conversation. God Bless!
August 26, 2014 Leave a comment
« older posts
newer posts »